Jun 2021
A Day in the Life of a Corporate Analyst
For people who are interested in a career in finance but aren't sure what to expect, JPMorgan Chase's Corporate Analyst Development Program (CADP) can be the perfect solution. With a trio of eight-month rotations, CADP allows each participant to experience different teams and functions across the company, learning what they enjoy (and what they don't). And, along the way, they get a chance to make an impact—not just for JPMorgan Chase, but also for the people the company serves.
Kenneth, a graduate of Singapore Management University, joined CADP in 2020 and is now on his first rotation in the Asia Commodities Operations team in Singapore. As a Project Manager, he helps move the bank into new markets, and expands its tools for trading and investing. This includes working closely with the bank's teams to help roll out innovative live trading capabilities that make a difference for its clients.
Curious about what's involved in a corporate role day-to-day? Here's a day in Kenneth's life!
8:45am - I'm mostly on a work-from-home schedule, so I start the day by brewing my own coffee. The entire brew process from grinding the beans to brewing the coffee is therapeutic, and starts my day on a calm note before work begins.
9:15am - Ready to start the day, I ease into work by clearing emails and consolidating project progress while making a list of items to follow up on and prioritize for the day ahead. Taking a little time to plan my day helps keep me from being overwhelmed when issues flood in throughout the course of the day.
9:30am - I officially start engaging stakeholders for the projects I manage, and try to resolve various issues while planning and adjusting project timelines, based on any dependencies and risks that crop up.
10:30am - We have our daily team huddle, during which the project managers update each other on project progress and discuss issues to resolve. We typically take this time to help each other find resolutions to the different issues we have.
11am - After the huddle, I start planning and putting into action the steps we agreed on for resolving issues. I also revise any project plans that need it, and start to engage in my first group of stakeholders—who are based in India—as they begin their day.
12:00pm - Time for lunch! I disconnect and switch my mind off work for a while, taking a quick lunch and squeezing in a short nap if time permits. This leaves me recharged and ready to power through the second half of the day.
1:00pm - I start my afternoon by drafting up documents required for stakeholder communications on various forums. The most important of these forums is the Project Working Group (PWG), which involves all stakeholders across Technology, Compliance and Operations, and other parts of the company. Clear and effective communication is key to maintain stakeholder engagement and confidence, so I like to put in a little extra effort to ensure these communication materials are written well.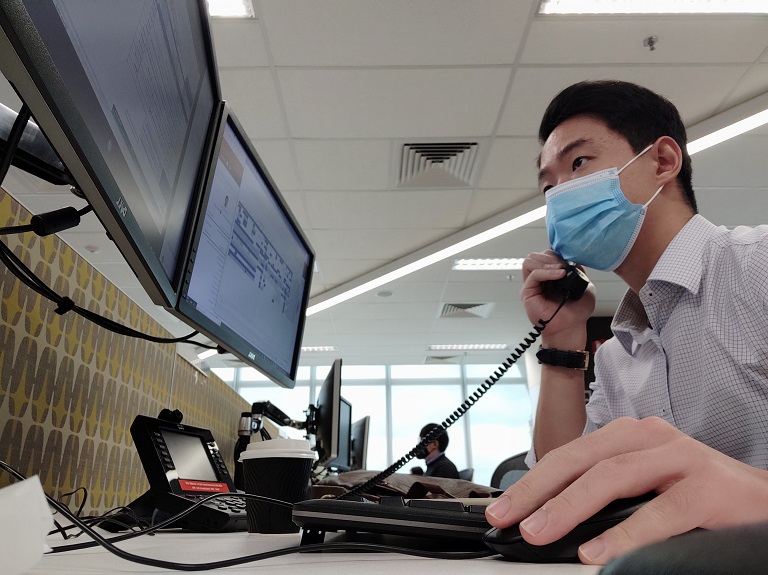 2:00pm - I have my first stakeholder call, in which I provide project updates to the wider operations team, including a few senior stakeholders. I also use this opportunity to listen in on updates from other teams about any interesting market movements for commodities, and to brush up on some market knowledge.
3:00pm – To keep my mind fresh, I switch my attention to a parallel project that's part of our team's digitization agenda. This digitization is part of a wider firm push toward the adoption of more digital tools to improve efficiency. Currently, I'm working to improve visibility on the various projects our team is working on and consolidate updates onto a single dashboard using Tableau. This helps deliver a single snapshot of information and allows for centralized reporting and updating across various management forums, while also helping me sharpen my data analytics and visualization skills.
4:00pm - I start engaging in my second group of stakeholders—who are based in Europe, the Middle East, and Africa—as they begin their day. At the same time, I prepare scorecards and ratings on various project workstreams for my PWG later.
5:00pm - I start working with my PWG to tell stakeholders about project updates and listen to their feedback about any issues they've encountered. I also work on resolving more complex problems that are better discussed over a call.
6:00pm - I start to consolidate progress made throughout the day and take stock of the progress on my work streams. I also consolidate discussion notes from the PWG meeting, summarizing key takeaways. Finally, I send out actions points as a follow-up to the stakeholders.
6:15pm - I typically wrap up my day around this time, but depending on project needs, I might have calls later in the evening. Thankfully, I am given the flexibility to plan my time based on what's needed, so I can work late if I need to, while still making sure I get ample time off work.
Learn more about our Corporate Analyst Development Program.