April 2020
Amanda Morales is one of our talented software engineers who keeps our digital platforms looking great. How did she find herself at JPMorgan Chase? A few years ago, she spotted our booth at her university's career fair and our recruiters interviewed her on the spot. Not long after that meeting, she landed a summer internship with the Digital Domain Payments team.
Amanda loved her internship and the feeling was mutual – she accepted a graduate position offer and is part of the same team today.
Like most of our employees, Amanda has been working from home for the past month, completing her daily tasks through JP Morgan Chase's remote working technology. Before COVID-19 changed everyone's daily routines, read how Amanda spent an average day working in our New York City office.
Before work: I'm not a morning person, so when I wake up, I head straight to work -- the New York City rush hour is all that stands between me and the office. Pro tip for my fellow night owls – don't grab your breakfast or coffee until you're close to work. You don't want it to be cold when you sit down to eat!
9 a.m.: I arrive at the JPMorgan Chase office on 33rd Street and join my colleagues. Our job involves managing the user interface design and experience for the Chase website. We want to make sure the website looks great while providing easy navigation for every customer.
9:10 a.m.: I catch up on emails and enjoy my much-needed coffee.
9:30 a.m.: Our team has a 30-minute daily huddle to discuss priorities, challenges and new requests. We leave with our game plan for the day.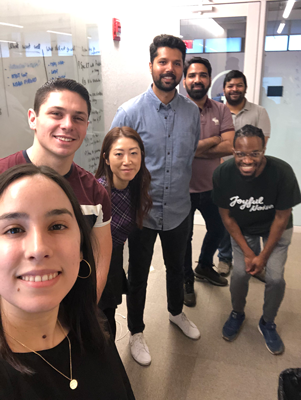 10 a.m.: Time to start crossing items off my to-do list. My current project is a new page design geared toward a younger audience. It's an interesting challenge to make sure all the necessary information is available without complicating the design.
11 a.m.: I catch up with the Product Manager who requested the new page design to evaluate its progress. We also discuss a few small tweaks I think will improve the page. It's great that I can go directly to each stakeholder – there are no barriers here and everyone is collaborative.

Noon: Lunchtime! My team will often eat together in the office, but sometimes it's nice to head out and enjoy some of the great shops and cafes nearby.
1 p.m.: I'm managing a few small but necessary website requests that came through overnight. They may involve updating copy on an existing page or fixing an unexpected error. I like to tick off one or two of these each day to make sure I'm doing my part to support the team.
3 p.m.: I head to a regular seminar our wider team organizes to educate us on new and interesting trends in our field. Today's topic is different user design platforms. Tech moves very fast so it's important to continuously stay up-to-date and I'm happy to have access to this type of continuing education.
4 p.m.: I have a quick check-in with my manager, who's giving her advice on design implementation for the page I'm creating.
5 p.m.: The day is done! There's no team happy hour today so I'll be heading to my favorite yoga class to unwind and recharge for tomorrow.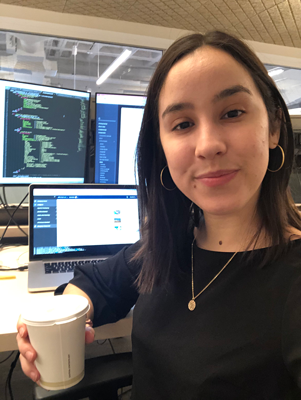 Daily Diary – The Working from Home Edition
I'm enjoying an extra hour of sleep since I no longer need to commute, and I've enjoyed having extra time to cook meals in the morning!
Apartment living has its challenges, but it's great that I can continue to get my work done. Between Zoom, Skype/Symphony and screensharing resources, my team is staying connected virtually. We continue our daily huddle and have added another regular meeting toward the end of the day to ensure everyone has what they need to keep working efficiently. Our team has been adaptable and productive as ever.
I definitely miss my colleagues. I work with a great group of people I enjoy seeing each day. I'm looking forward to getting back to my normal routine.
Find out more about working in technology at JPMorgan Chase & Co.