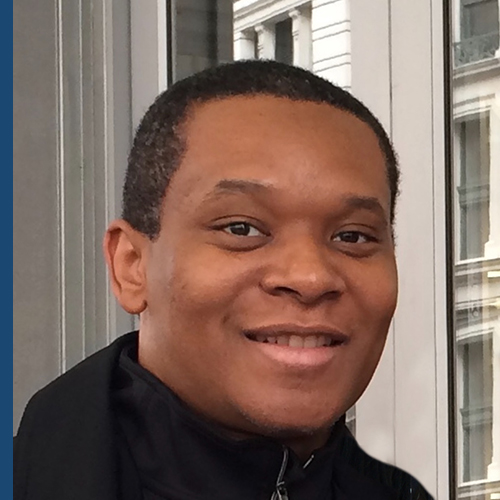 Work location: New York, USA
Major: Computer Science & Mathematics, Artificial Intelligence, and Quantitative Methods
University: Sacred Heart, St. Johns, Stanford and Columbia University
Favorite breakfast food: Oatmeal or scrambled eggs with bacon and toast
Top travel destination: Montreal, Canada or Ocho Rios, Jamaica
Languages spoken: English and intermediate Spanish
Favorite ice cream flavor: Cookies & Cream
Favorite tea: Earl Grey
Favorite movie: Gattaca and Equilibrium
Favorite hobby: Archery and basketball
Job in a nutshell: In my role as Head of Operations Modeling, I provide executive leadership over the development of Machine Learning and Artificial Intelligence based solutions to Chase Operations. Our goal is to use AI to offer a frictionless experience for customers and employees
Favorite tech resources: Wired, arXiv
Favorite piece of tech: Internet of things (iot)
Skills for tech role: Clear and Concise Communication, passion to problem-solve, familiarity with business domain you're operating in, and expertise in a quantitative discipline
Donald Stephens
---
Managing Director, Modeling & Applied AI
Donald Stephens spends a lot of time shooting at targets—literally and figuratively. At the start of the pandemic, he took up archery as a new hobby and quickly came to love the discipline of the sport. "I learned that it's more about self-awareness and control and less about the precision of the equipment you're using," he says. "A little variation can cause you to hit or miss your mark by a wide margin."
The same is true of his work at JPMorgan Chase, where Donald's team uses artificial intelligence and quantitative modeling to improve operational efficiency—and make things easier for clients.
"With the amount of data we have, artificial intelligence allows us to tackle all kinds of problems across a large part of the company, where operations accounts for almost a third of what goes on," he says. "AI research lets us develop tools that allow our employees to be more selfdriven and effective and to deliver a better experience and outcomes from customers."
Can you describe your journey to working at JPMorgan Chase?
I had been at my previous firm, a major credit-ratings agency, for 17 years, with a short detour to an investment bank sandwiched in, when a recruiter from JPMorgan Chase reached out to me about a new opportunity to build out a team focused on AI. At that time, I was ready for a new challenge and an opportunity to build a team. But the real incentive for me was the kind of impact I could have on people's day-to-day experiences at a global bank like JPMorgan Chase.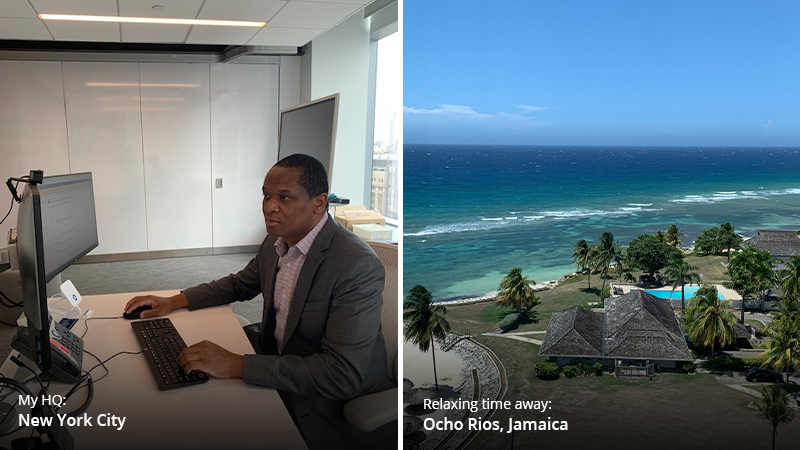 What's one of the best pieces of advice you've gotten from a manager at JPMorgan Chase?
When I started out, my manager said to me: "Don't get lost in the waves." What he meant by that is the tendency for someone new to want to stand out, to want to get recognized immediately for their abilities and talent, to make a big contribution upfront. But this is a huge firm. There's always a lot of big projects happening, and you can get lost in those waves.
That advice worked well for me because I tend to be very collaborative. I like to figure out who all the players are and their capabilities and just align myself to them. I don't want to be the solution looking for a problem to solve. I'm not trying to compete with existing priorities or projects already in flight. I'm helping make other people better and solve existing problems.

Can you explain in layman's terms the work that you and your team do?
A lot of operations performed at work have become rote. We don't think about them anymore. But we should, because there could be better, faster, more productive approaches. That's kind of what machine learning and AI is all about. How do we take existing processes, infrastructure, software—anything that involves a great amount of repetition—and reduce or eliminate the friction? And, once we've understood the process and the problem, how can we create a better experience for the end users?
What employee resource groups are you a part of and why?
I'm involved in a number of groups, many of them focused on Black, Latino, Asian and other minorities working at the firm, especially in the STEM fields. I'm very passionate about sharing my own experiences in life and career to help spark more conversation about sometimes uncomfortable moments. I also attend all sorts of recruiting events where students get a chance to hear from people like me about what it's like to work at a firm like JPMorgan Chase. And the truth is that it's a great time to be here. There are so many opportunities to engage, to grow and develop your potential.
Can you talk a little about mentorship at JPMorgan Chase?
First of all, it's important to distinguish mentorship from sponsorship, even though there can be lots of overlap. A mentor is someone who will be your unofficial adviser, someone you can talk to and get unfiltered perspectives on just about anything. A sponsor is someone who agrees to be in your professional corner, be your champion, raise you up, suggest your name for new projects and initiatives, and push your growth and development. I've been really fortunate in both regards. And I try to do the same for others — both as a mentor and as a sponsor.
If you could talk to your younger self about career paths—and, especially, about going to work at JPMorgan Chase—what advice would you give?
I would tell myself not to focus so much on just getting work done, hitting targets. When you're all about the execution, you sometimes miss the bigger picture and the opportunity to really define a path of growth for yourself. It's not selfish to want to grow.