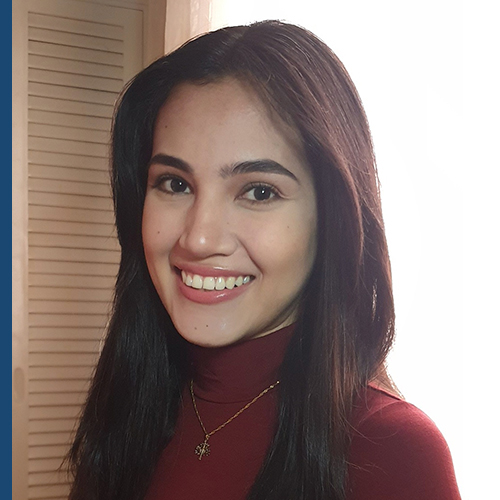 Work location: Cebu, Philippines
Major: Mass Communications
University: University of the Philippines, Cebu
Favorite breakfast food: Overnight Oats
Top travel destination: Switzerland
Languages spoken: English and Filipino
Favorite ice cream flavor: Pistachio
Favorite coffee beverage: Americano
Favorite book: Anna Karenina by Leo Tolstoy
Favorite hobby: Netflix, reading novels, and freediving
Job in a nutshell: I support the internal communications for the Cebu Corporate Center where I work closely with the location leadership team to execute on community, cross-business and corporate initiatives and events. I also help manage the digital communications platforms of the Corporate Centers, Philippines.
Mia Ali Faridoon
---
Communications Associate, Corporate Communications
It's never easy starting a new job. It's even harder starting one at the beginning of a worldwide pandemic.
Not that Mia Ali Faridoon complained. In fact, she says that JPMorgan Chase made her feel at home right away. Part of that, admittedly, was because she was actually working from her home. But from the very start, Mia says, her manager and team were checking in to see that she had everything she needed to become a success.
Even before Mia came to JPMorgan Chase, she already had an impressive career. After college, she was a staff writer for a business magazine in Bahrain and then worked in the marketing department for a prominent food corporation in the Philippines. During her downtime, she read, hung out with friends or went scuba diving—all while planning her next career move.
Which is why she started taking online courses in finance. And why she came to JPMorgan Chase. "It's one of those firms you really can look up to," she says.
What convinced you to choose JPMorgan Chase?
To be blunt, it's one of the largest financial firms in the world, and I wanted to be part of a financial services firm for quite some time. It's simply a great company. In fact, JPMorgan Chase was recognized as one of the nine best places to work in the Philippines from Best Places to Work, an international certification program.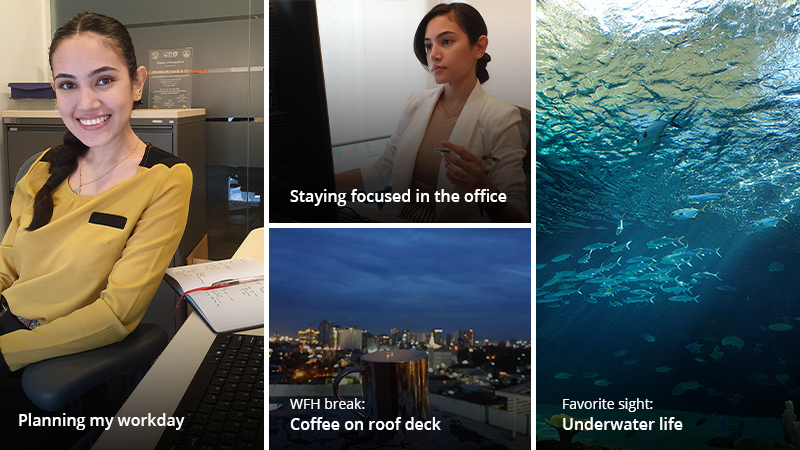 When you came to work at JPMorgan Chase, what was your first impression?
I joined the firm at the height of the pandemic. The lockdowns started in March 2020, and my first day was April 17. In fact, I haven't even worked on site yet, although I've visited the office twice. But I was surprised at how fast the company addressed the needs of the employees. Two days before my start date, I got several calls from onboarding, making sure I had the technology I needed to do my job. I was impressed with how they were able to support me and assist me remotely.
At a time when other firms seemed to be panicking and unsure what to do, JPMorgan Chase had everything set up in place for me. A month later, I interviewed employees about their stories during the pandemic, and it only solidified my understanding of how quick and efficient JPMorgan Chase had been in making sure their employees had all of their needs met.

What is your favorite thing about interacting with your managers, co-workers or team?
When it became clear that we weren't going to the office any time soon, one of my colleagues set up a Friday evening call a couple of times a month. We take an hour to catch up with everyone, and we don't talk about anything work related. We have five of us on the team, and we'll have these calls just to check up on each other.
On a bigger scale, I also look forward to the five bullet Fridays. An employee is assigned to send out an email with their favorite quote, their favorite book, resources they like, shout-outs, those types of things. These are light topics, intended to lighten up the mood. It's a good way to catch up with people on a global scale and learn different quirks and hobbies of your colleagues . It's fun getting to know everyone, beyond the usual work-related email exchanges.
What was the moment you knew you'd made the right decision to work at JPMorgan Chase?
Top of mind would be the recent calamity that struck Cebu. On December 16, a typhoon arrived and struck the central part of the Philippines and directly impacted the Cebu Corporate Center. A lot of areas had no electricity or water, and JPMorgan Chase was very quick to respond and show support. Shortly before the typhoon, we had a highlevel guest in the company during one of our virtual fireside chats, and he said that people at JPMorgan Chase should come first. A week later, the company put those words into action.
What do you think would surprise people about working in corporate communications at JPMorgan Chase?
Probably that there is a job in corporate communications. We use several communications platforms to support thousands of employees, keeping everybody informed and engaged. On my end, I craft the copy and visuals for the digital content that we push out on one of our communications platforms. The team is truly global and you get to work with people from different countries and backgrounds.
When we talk about JPMorgan Chase in the Philippines, most would think of our call centers, but there are many other corporate roles that support the company and its employees. When I tell people that I am with JPMorgan Chase and a communications associate, they're surprised to learn what I do.
What is one challenge you faced at work that really helped you grow?
Getting to know peers and stakeholders, and being acquainted with our ways of working would have probably been easier face-to-face, rather than through the remote setup I have. I soon realized I had to be more proactive than usual in reaching out to colleagues, which is essential for building professional relationships. In a fluid environment, I learned to be flexible and quickly adapt to changes.
If you could talk to your younger self about their job search— and, especially, about going to work at JPMorgan Chase—what advice would you give?
If you think that you haven't found the right fit, you should look for other opportunities. But you also have to be patient. Long before I started working for JPMorgan Chase, I knew it was a firm I wanted to work for, but there were no opportunities yet. I was very patient, and I would look at job opportunities on LinkedIn to see if there were roles that fit me. I'd tell my younger self that you shouldn't compromise. After all, you spend most of your time at work, and so it should be a job that you are happy doing.