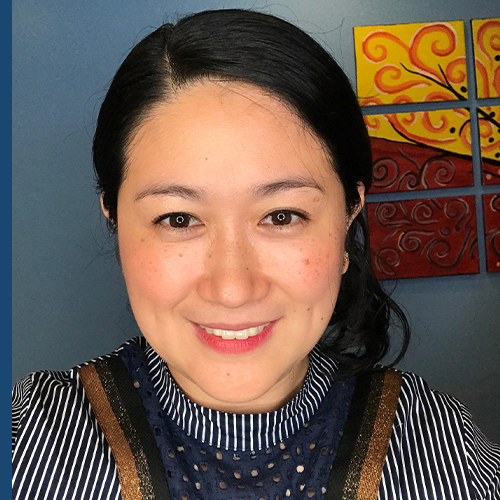 Work location: Taguig City, Philippines
Major: Marketing
University: Central Luzon State University
Favorite breakfast food: Eggs sunny side up with toasted bread
Top travel destination: Japan
Languages spoken: English and Tagalog (Filipino Dialect)
Favorite ice cream flavor: Chocolate almond fudge
Favorite coffee beverage: Latte or Cappuccino
Favorite book: The 7 Habits of Highly Effective People by Steven Covey
Favorite hobby: Sewing and spending time with my kids and family
Job in a nutshell: I manage our Image Services in Manila where we identify and classify mortgage and auto documents for end users retrieval
Myla Ong
---
Operations Manager, Home Lending
Myla Ong has had a few different careers. She taught business at a college. She became a restaurant manager. She thought she wanted to go into physical therapy or nursing. But one day, her cousin suggested she apply to work at a call center. It opened a new door—and a new career.
Myla's call center contracted for JPMorgan Chase, and she spent a year helping the bank's customers. In 2005, the company opted to open its own center and gave Myla a choice for her next career: she could either stay with her current call center, where she'd become a head trainer and get assigned to a different account, or she could join JPMorgan Chase. She chose the latter in 2005 and has never looked back. Today, she's an Operations Manager in the Philippines Operations – Home Lending Office.
What convinced you to choose JPMorgan Chase?
I thought I wanted to be a nurse in part because I wanted to travel abroad. I considered staying at the original call center because, as head of training, I'd get to travel as well. But working with JPMorgan Chase at the previous call center, I realized if I did well with the company, I'd have a lot of opportunities for travel and promotions. And that's happened.
The culture was also a deciding factor. I had a luxurious offer from another company, but when I thought about the culture, the people I'd be working with, and how JPMorgan Chase takes care of its employees, I knew how it would be with the company. There's no perfect company, but I love what I'm doing, I love the people I work with, and all the opportunities I've been given.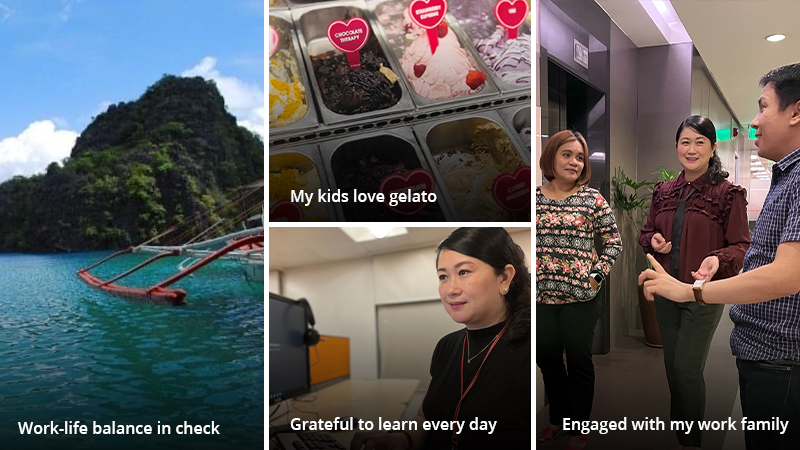 When you came to work at JPMorgan Chase, did anything surprise you?
I hesitated to join JPMorgan Chase because it was intimidating. Previously, I'd mostly dealt only with local companies, but with this role, I knew I'd be working with people in the U.S. After a while, I came to realize how welcoming everyone is, even though our facilities are huge. We're all treated like colleagues. I'm an introvert, but with the support of my manager and team, I've gained a lot of confidence.

What is your favorite thing about interacting with your managers, co-workers or team?
I really enjoy talking to them because they don't just agree with whatever I say. They politely challenge my decision. The more people question your decision, the stronger it gets. You can consider and back it up, but you can also look at it from all angles and assess if it's right or needs to be altered.
Also, I love the recognition we receive. We have Bayani (Heroes) Awards, which recognize those people who really perform well. We receive so much recognition in Manila.
What was the moment you knew you'd made the right decision to work at JPMorgan Chase?
When I became a mom. I realized that I did not just join JPMorgan Chase for my career, but for my wellbeing as a parent. When I joined, I got to see all the great things we do for people with disabilities. But it's different when you become a mom of a person with disabilities. It touches a big part of my heart. Joining JPMorgan Chase nurtured me as a person.
What do you think would surprise people about being in Philippines Operations at JPMorgan Chase?
The common theme in other companies is that you cannot talk to managers right away. That's how it works. But here, it's different. Here, managers up to the Vice President level would just talk to the employees, the front liners. The fact that we walk on the floor, that we talk to them, it's different. And that's always a surprise to people.
What is one challenge you faced at work that really helped you grow?
I applied three times for a manager role and didn't get it because I wasn't assertive enough. I decided to move laterally to gain more knowledge. That was the trigger for me to learn more within JPMorgan Chase.
If you could talk to your younger self about the job search – and especially about going to work at JPMorgan Chase – what advice would you give?
Find a company that values its people, that will make you grow professionally and as a person.