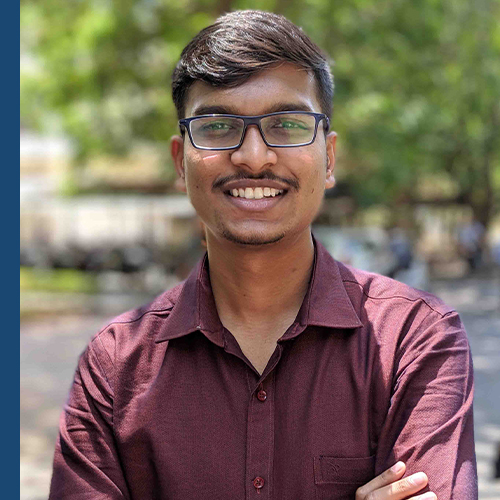 Work location:
Columbus, Ohio
Major: Computer Engineering and Computer Science
University: National Institute of Technology, Surat
Favorite breakfast food: Idli (South Indian dish) made by my mom
Top travel destination: Anywhere that involves trekking - it gives me a feeling of accomplishment
Languages spoken: Telugu, Hindi and English
Favorite ice cream flavor: Blueberry
Favorite coffee beverage: Not a coffee lover, but I love mango juice
Favorite book: Technical topics or materials
Favorite hobby: Archery and basketball
Job in a nutshell: I work as a Software Engineer in the Global Customer Platform team. I work on developing cloud native micro services while designing solutions for challenging problems that developers face in a distributed environment.
Sai Ram Naragoni
---
Software Engineer, Global Technology
When he was in college, Sai Ram Naragoni knew that JPMorgan Chase was a bank, but that was about it. Then again, how much did he need to know? He was studying to be a software engineer, and—really—how much technology could a bank have? He wanted a career building apps—which, he thought, meant getting a job with a company writing code, not with a bank that was just using it.
But during his third year of college, he was looking for a summer internship and JPMorgan Chase came to his campus. When he was offered a technology internship, he took it.
It was only after he started the internship that he realized just how big the company is, and how many technology opportunities were available. It turns out, banks use a lot of technology. And JPMorgan Chase builds a lot of software from the ground up, making it the ideal place for Sai Ram to find the career he dreamed of.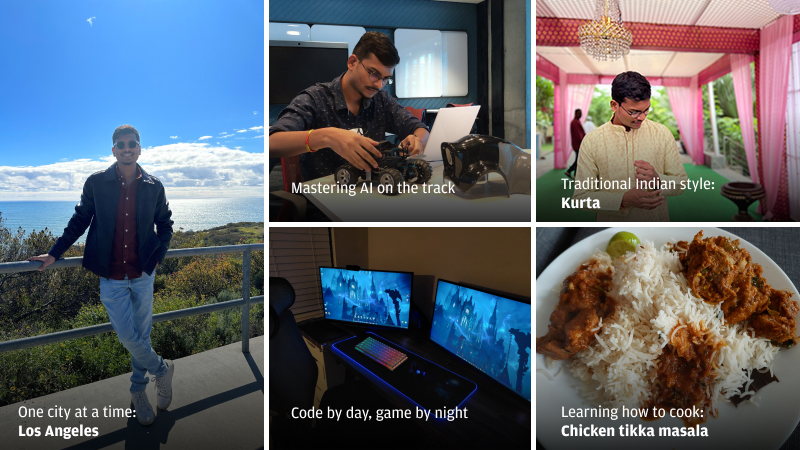 What convinced you to choose JPMorgan Chase?
My internship experience was really good. In college, I was a little confused about what, exactly, I wanted to do for the rest of my life. When I joined JPMorgan Chase as an intern, I realized that whatever technology I was looking to settle on—whether Java, software development, or whatever—I might have the opportunity to do it at this company. All the technology a software developer could think of is here.
What business do you work in and how would you explain your job to someone who doesn't know anything about finance?
I'm a software engineer, working in customer information. Basically, we make sure when you log into your accounts, that you get the information that applies to you. Whether you're an investor or a business with us, you'll see information that is relevant and helpful to you.
When you came to work at JPMorgan Chase, what was your first impression?
I joined through the Software Engineer Program (SEP), which gave me a lot of access to the bank's leaders. During my internship, we had a session with our CEO Jamie Dimon, and I was able to ask him a question directly. I realized that leaders here think in a different way. It's interesting to see how they answer as it differs from how I would reply. They look at it from all different perspectives and answer with a broader scope. That was my first impression: This was a place with really good leadership.
What is your favorite thing about interacting with your managers, co-workers or team?
I have had four different managers in my 4 years at the firm and I learnt different aspects from each of them, be it related to work or as a person in general. I am grateful for the person I have grown into in the past couple of years.
I recently moved to the United States and it's been really fun to work with my new team. We have white boarding sessions where we brainstorm and discuss the architecture designs. We go out and explore the local cuisines together which I believe helps the team bond outside of work and better understand each other.

What was the moment you knew you'd made the right decision to work at JPMorgan Chase?
Meeting our CEO Jamie Dimon was definitely one of the best moments because it was one of the first things that happened when I joined. But in 2021, I won the AWS Deepracer World Championship. It's a machine learning competition for developers from around the world where you train and race driverless cars. Over 70,000 developers around the world and 3,200 JPMorgan Chase developers competed in the competition. Right after the news got out that I'd won the world championship, I got a couple of congratulatory calls from the India leadership team. All of this makes you feel like you're getting the recognition you deserve, you're in the right place, and you've made the right choice.
What do you think would surprise people about being a Software Engineer at JPMorgan Chase?
The Software Engineer Program we have is a one of a kind and gives you a smooth transition from college life to the corporate life. It gives you a platform where you can showcase your talents. Another thing that would surprise people would be the culture and kind of work we do. When we say a bank, people usually associate it with the branches, but here at JPMorgan Chase, we are trying to redefine the banking experience using technology. We have everything one needs to grow as an Engineer at the firm.
If you could talk to your younger self about their job search—and especially about going to work at JPMorgan Chase—what advice would you give?
I would tell him to do a bit more research. I didn't know what JPMorgan Chase was and I was interviewing without knowing all that the firm does and the work available here. After joining as an intern, it changed my perspective. It was a nice surprise and compelled me to stay with the company. So don't lose a good opportunity because you didn't research enough.