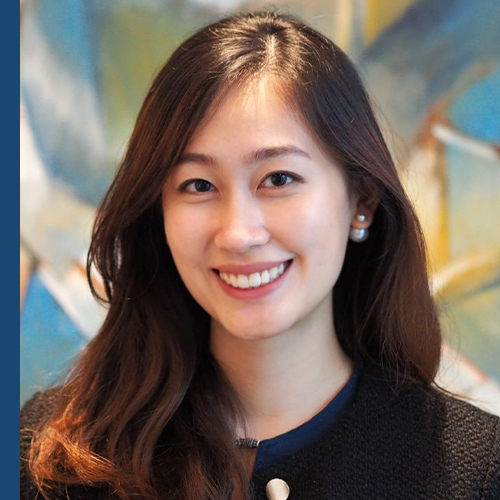 Work location: Singapore
Major: Finance
University: Singapore Management University
Favorite breakfast food: Pastries
Top travel destination: Rome
Languages spoken: English, Mandarin, Malay, some Hokkien and Cantonese
Favorite hobby: Painting, watching movies and travel
Job in a nutshell: We help our Ultra-High-Net-Worth clients with all their personal and family's financial and wealth planning needs. I come from the China team based in Singapore, where we primarily advise Chinese clients
Shin Rong Teh
---
Associate Banker, Wealth Management
When Shin Rong Teh was growing up in Kuala Lumpur, finance was pretty much a family business: Her mom and many of her relatives worked in the industry. So by the time she got to college, Shin Rong naturally found herself drawn to finance as well. She majored in Finance at Singapore Management University and, after graduation, was offered a full-time position at JPMorgan Chase in Singapore.
But Shin Rong's job wasn't the only change on the horizon: Because of the pandemic, she wasn't able to come home to her family for two years. This Lunar New Year, however, she finally made it back to celebrate the Year of the Tiger with her family. "I've a lot of time to make up," she says.
Can you describe your journey to working at JPMorgan Chase?
During my Junior year in university, I was invited to interview with JPMorgan Chase's through their Winning Women program. I was among a small field of female candidates who were invited to the bank for a full-day of networking and interviews, and was able to meet with and hear from senior leaders of the bank. I was very impressed with how many women leaders there were, and was deeply moved by all the senior leaders' generosity in taking the entire morning to share their experiences with us before interviewing us. I thought this demonstrated how much the bank really valued junior talent. Following the interviews, I was offered a summer internship, which led to a full-time offer.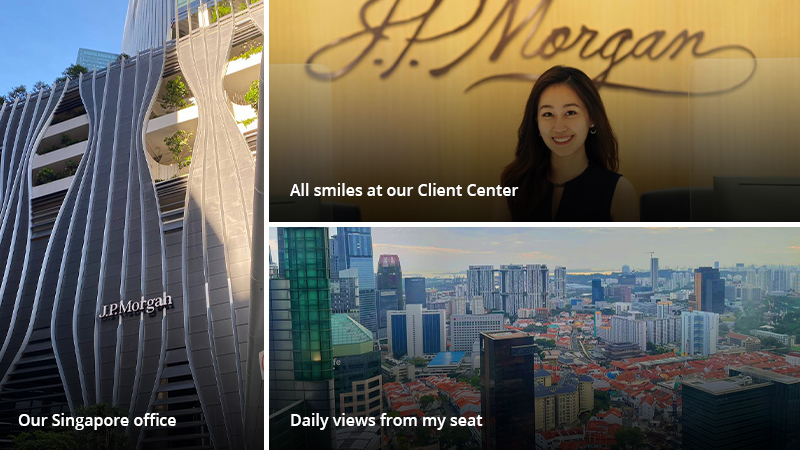 How would you explain your job to someone who doesn't know anything about finance?
I am with the China Team in the Wealth Management division based in Singapore. We advise ultra-high-net-worth clients on a broad range of services such as investments, estate planning, mortgages and loans, as well as philanthropy and legacy planning. We work closely with each client to deliver a tailored, personalized strategy most suited to their unique needs and preferences. As part of the China team, I specialize in advising Chinese clients.

Was there a moment when you knew JPMorgan Chase was the right company for you?
During the interviews, I was already able to see snippets of the bank's nurturing and supportive culture, but it wasn't until my 10-week summer internship with JPMorgan Chase that I truly saw how the company takes its nurturing and supportive culture to the next level. For example, all summer interns in the Asia office were sent to Hong Kong on the first week of our internship for training. Apart from sessions to enhance our technical knowledge, the bank also arranged many networking and leadership training sessions for us. These were meant to increase our exposure beyond just the technical aspects, and help further our personal growth.
After we returned to Singapore, we had senior associates who organized weekly teach-ins for us on basic investing concepts. They personally conducted the sessions, using materials that they prepared themselves. I was incredibly touched by their dedication and commitment, and the support and guidance that they provided to us.
What is something that surprised you about working at JPMorgan Chase that you think others who don't work at the company would be surprised to learn?
I think it is really the emphasis that the bank places on their people. I always find myself feeling impressed with the resources they put into nurturing and supporting the growth of their people, professionally or personally.
For example, following our summer internship where we were sent to Hong Kong for training, we were then sent to our headquarters in New York for a three-week training when we came back for our full-time roles. Once again, those three weeks were packed with technical and leadership training, as well as networking sessions to help increase our exposure.
Even now, there are many trainings and programs that are offered to us on an ongoing basis across different topics. Apart from the investment topics that are related to our daily role, there are also sessions on coding, Excel VBA, public speaking, communication and leadership skills, and so on. The firm supports our personal and professional growth and development. I think that is really important.