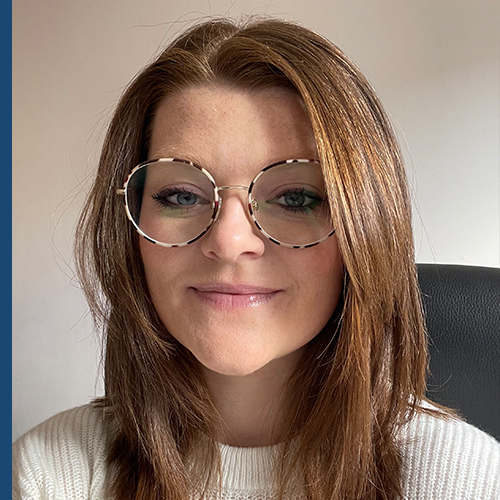 Work location: Glasgow, UK
Major: Computer Science
University: Strathclyde University, Glasgow
Favorite breakfast food: Tattie Scone (Scottish delicacy)
Top travel destination: Amsterdam and Portland, Oregon
Favorite ice cream flavor: Ben & Jerry's Phish Food
Favorite coffee beverage: Skinny latte
Favorite book: Anything thriller genre, especially author Karin Slaughter
Favorite hobby: Walking my dog, exercising, being with friends and watching TV
Job in a nutshell: I am a program manager for a machine learning team within wholesale credit risk, facing off to business and tech executives
Favorite tech resources: BBC News, Twitter, LinkedIn
Favorite piece of tech: My Peloton (I love exercising and getting a great workout class like environment at home)
Skills for tech role: Good communication, ability to multi-task, and user development understanding
Tasha Potts
---
Technology Program Manager, Credit Risk Technology
It's a pity life isn't a musical, where people belt out tunes when they're feeling happy or sad. Besides making everything more interesting, Tasha Potts would excel at her job as a program manager even more. In her spare time in high school and at the University of Strathclyde in Glasgow, Tasha was an accomplished singer and performed in stage musicals like Les Miserables and The Rocky Horror Picture Show.
But even without investment bankers, commercial bankers, technologists and other professionals bursting into song, just about every other part of Pott's career at JPMorgan Chase has been a little like one of those Broadway musicals where it looks like the actors are having a blast.
"My whole career has blown my mind," Potts says. "Within seven years, I've had three different promotions and have been on four different teams. I've been a business analyst, a software engineer and now a program manager."
When Potts started her job, she had no idea that one day she would run a global team of 12 employees, in three offices—in the United States, India and Scotland, where she lives. And just like any good musical, Potts is living in the magical world of happily ever after, with a job she loves, a fiancé and a dachshund named Richmond.
What convinced you to choose JPMorgan Chase?
I was at my university, and a representative from JPMorgan Chase was coming around and speaking to the students and trying to get them to join their software engineer program. I already had a job with a different company that I was doing an internship with, and so I didn't apply. But then I started that job and hated it. It was incredibly dull. I was doing very boring, repetitive work. So I decided to email the person who had come to my university and asked, "Is there any chance I could join your software engineer program?" And this October, I'll have been working here for eight years.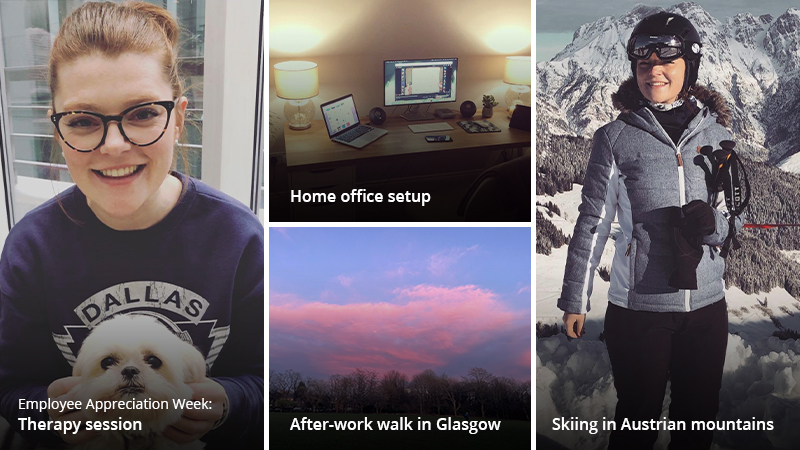 When you came to work at JPMorgan Chase, what was your first impression?
I was really surprised by how friendly people were. When you think about an investment bank, you think of working with people who are almost robots and maybe even mean and hard to get along with. But I was surprised at how willing people were to answer questions and that they didn't think I was stupid for asking them.

What is your favorite thing about interacting with your managers, co-workers or team?
I like how willing people are to talk about their day-to-day and personal life, rather than always jumping straight into business. I love getting to work with different cultures. The people here, if they see talent, are eager to push your career forward—as long as you are willing to drive yourself forward. And I really enjoy working with Take IT Forward, a female-driven business resource group at JPMorgan Chase. It's no secret that there aren't many women in technology, and so it's something I've worked hard at to push up retention. And JPMorgan Chase has made a lot of progress on this front.
What was the moment you knew you'd made the right decision to work at JPMorgan Chase?
About a year after working at JPMorgan Chase, I received my first promotion. To get there after just a year—usually, it takes two years—I really felt valued. I just thought, "Wow, this is the place for me." I've had three promotions in the last seven years and a key part of that has been because leadership is so supportive while also pushing me to get out of my comfort zone.
What do you think would surprise people about being a program manager at JPMorgan Chase?
Probably that every single day is 100 percent different, and I don't know if that's a good thing or a bad thing. But I don't know if I've ever had a day where I feel the same and do the same things. I think it's because everything is so fast-paced, we're always working really quickly to get good solutions into the system. I guess we're basically multi-tasking, but it makes things interesting.
What is one challenge you faced at work that really helped you grow?
A big challenge is having a global team to oversee. It's great because you get to work with so many cultures, but you also need to be available. In my job role, where I'm managing teams across the globe, it can be a massive challenge, where I need to work across time zones, and I need to make sure everybody's happy. It's a challenge I've not met lightly, and I've worked hard on it. It was especially hard during the pandemic. People were working remotely, and I'd have to encourage them to step away from the computer and work less.
If you could talk to your younger self about their job search— and, especially, about going to work at JPMorgan Chase—what advice would you give?
Do not think that you have to be accomplished in all of the criteria that they list on the job spec. If you have 60 percent of what they're asking for, go for it.