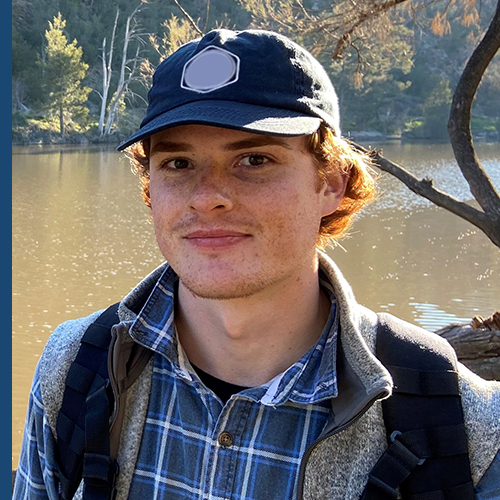 Work location: Melbourne, Australia
Major: Economics / Finance
University: The Australian National University
Favorite breakfast food: Pancakes
Top travel destination: British Colombia, Canada
Favorite ice cream flavor: Coconut
Favorite book: Man's Search for Meaning by Viktor Frankl
Favorite hobby: Motorcycles
Job in a nutshell: Undertake financial analysis for M&A and capital market solutions
Will Ranson-Smith
---
Investment Banking Analyst, Investment Banking
Will Ranson-Smith is not a typical investment banker — but then, according to him, nobody at JPMorgan Chase really is.
"When you're a student, you come into investment banking with this idea that everyone's really kind of unapproachable and intense and they all just play golf and collect watches," he says, laughing. "In fact, it's the total opposite, everyone's super down to earth. It was quite a humbling experience to realize, 'Oh, they're not all Gordon Gecko and Patrick Bateman.'"
For Will's part, he's not much of a Gordon Gecko type, though he does wear a natty suit to work in JPMorgan Chase's Melbourne office. He spent a year serving full-time in Australia's Army before switching to the Army reserves while attending the Australian National University. And only after completing his commitment to his country did he make one to JPMorgan Chase.
When you were choosing a place to work, what tipped the scales in favor of JPMorgan Chase?
I've always known that I wanted to do investment banking, and naturally JPMorgan Chase is one of the top shops. It's a full-service integrated bank that does mergers and acquisitions as well as capital market services. So it was pretty much a no-brainer; it sold itself.
Most people that end up trying to get into the field throw their hat in the ring with JPMorgan Chase at some point! It's just got such a solid reputation in the field.
It's pretty high-intensity, but I think that if I just kind of signed up for a normal 9-to-5, I probably would have gotten a bit antsy. I would've felt like I wasn't being productive enough. So, I think that's another factor.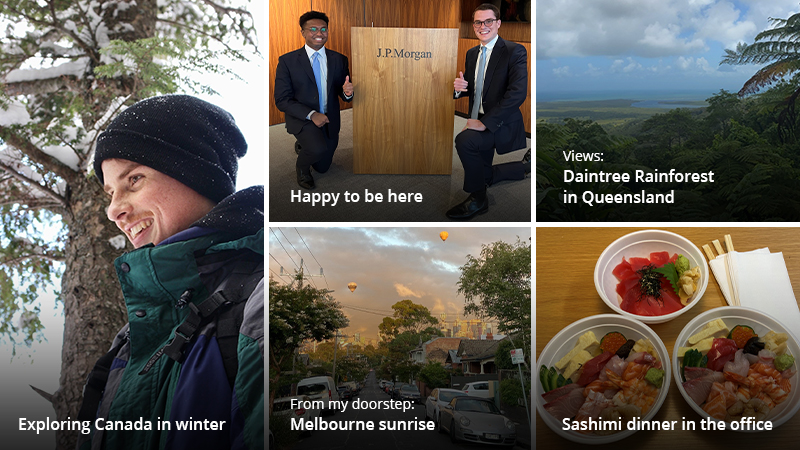 How would you describe the culture of JPMorgan Chase?
Something I think that's unique to my team is that it's almost like a prerequisite to have a dry sense of humor and be able to laugh at yourself — which I really enjoy, because that's where I fit in. No one really takes themselves very seriously, which is good because, when you spend as many hours in the day as we do together, you have to get along with your colleagues.
It's really one of the defining parts of the team that I'm in: Everyone's got a super humble attitude, no one has a really big head, everyone's really approachable. They have a lot of time for you, and they're generous when it comes to teaching you how to do things. They're all really lovely.
More than anything, the cultural fit is probably far more important than the technical skills. Obviously you have to be able to manage the technical side of things and have willingness to work, but it's important that everyone's on the same wavelength.

What is the best piece of advice that you got from a manager or from a colleague?
To try and maintain a view of what the big picture is for whatever piece of work that you're doing.
I think that, especially as a junior employee, there's a tendency to really get stuck in the weeds because you are the one that's kind of doing the analysis. That makes it pretty easy to get a bit of tunnel vision and not really think about what you're actually doing from a broader macro perspective. So, if you really want to learn and develop in your career, it's important to understand why you're doing what you're doing instead of just doing it without thinking.
If you could talk to either your younger self or a younger colleague from your university about joining JPMorgan Chase, what would you tell them to be thinking about?
Just remember that grades aren't everything! People will give you credit for having good grades and it is the first hoop you have to jump through. But a lot of the decision-making for whether you get an internship or a job will come down to life experience, how you fit culturally within the team, and what kind of other value or diversity of opinion you bring to the table.
So, whether you develop those things through sports or extracurricular activities at universities, or come from a more diverse background, or have lived overseas, all of those are really value that you bring to the table. Don't get too focused on maintaining the GPA because it might just get your foot in the door, but what will really get you the job is what other perspectives you can bring to company.