Company News
Why Big Companies Are Thinking Like Startups

Tech at JPMorgan Chase is getting smarter and faster at an unparalleled scale.
---
In an age of rapid disruption, innovation is often thought to be synonymous with startups. However, large corporations have recognized that to stay competitive and sustain their growth, they need to take a page from the startup playbook.
Facebook, Intuit and Amazon are just a few examples of large, established companies that have thrived from adopting startup strategies. But the growth mindset isn't enough—you have to be able to execute faster than anyone else. In fact, results from a 2015 survey by the Boston Consulting Group found that overly long development times were the most-cited obstacle to generating returns on innovation and product development.
JPMorgan Chase is well ahead of that game.
It's already broken down age-old processes, silo mentalities and slow, ad-hoc approaches, so that technologists can deliver next-generation products at breakneck speed. And despite its heft—50,000 technologists and 60 million retail customers—the technology team is working to become as nimble and disruptive as the next hot startup.
When you choose to work at a large company, you give up some control but you make it back multiple times over with scale," says Vinay Patel, managing director and a leader in the Agile transformation office of JPMorgan Chase. "The size and reach is sometimes hard to fathom—10,000 times that of a startup."
Embracing a new kind of thinking begins with minimizing waste and maximizing customer value or, as they like to say in the startup world, "be lean." Doing so accelerates transformation to the speed customers now expect.
Jump-Start Innovation
Startups are revered for their "disrupt or die" mindset. They emphasize continuous improvement and use build and test methods to ensure that products and services meet customer needs.
The same can be accomplished at large companies. JPMorgan Chase, for one, has changed the way their technologists work.
For example, at JPMorgan Chase products are not developed in a silo, instead engineers collaborate with support functions, such as legal, human resources and communications, to leverage their insights and surface new opportunities in real time. The seemingly small shift has a big impact on the speed and flexibility of the product development cycle.
Additionally, the company's Consumer & Community Banking team uses an Agile approach to innovation. It's a concept that comes from the software world where large projects are turned into smaller, incremental projects that are then evaluated by customers. The shorter the work cycles get, the faster the ideas get to market. And teams quickly learn what their customers want and double down on it. The best part? Customers don't even notice the thousands of small improvements being made.
"Essentially we're shifting our work to a structure where value is delivered in smaller, more frequent increments," says Patel. "This reduces risk and makes it easier to see big issues sooner, allowing the time to course correct as needed."
JPMorgan Chase has used the Agile method to improve the experience of submitting a claim and disputing a credit card charge. It's also improved the peer-to-peer gift feature of Chase's mobile app, so customers can easily send cash or a Starbucks gift card to friends and family. The flexibility of Agile allowed the team to launch e-gifting and then go back to enhance the feature based on customer feedback. From planning to market, the project took only six months—an impressive turnaround compared to traditional cycles that typically last 12 months or longer.
"With Agile, overall timelines can be dramatically reduced—we've seen in some cases that it has doubled speed to market," says Patel.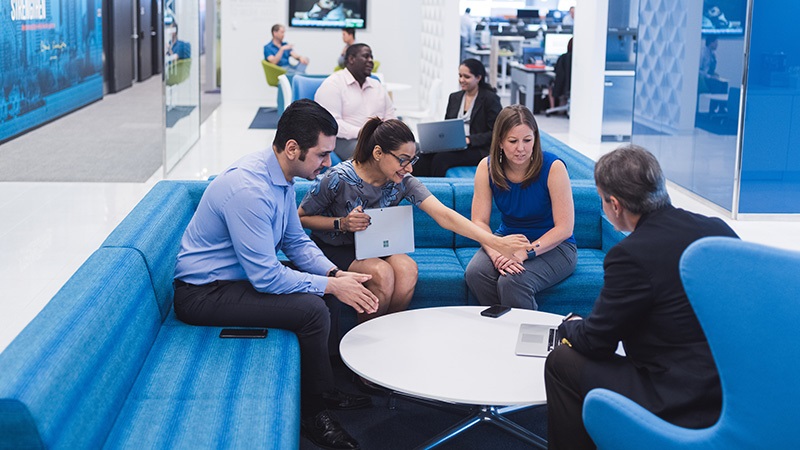 Be in the Present, Grow for the Future
Perhaps the trickiest thing about being an established company is balancing the demands of sustaining your existing business, while building new products and assets. That's why startups—and now big companies—have relied on a proven framework called the three horizons. According to Prashant Gandhi, managing director and head of digital payments at JPMorgan Chase, the idea is that resources should go towards three types of innovation efforts: improving current operations, nurturing up-and-coming businesses, and creating breakthroughs that don't yet exist in the company.
The three horizons framework has been applied in a variety of industries and contexts, from drug design at Pfizer to product innovation at Google. At JPMorgan Chase, the model is used in a 70-20-10 split, where the bulk of resources are put towards the core business, while 20 percent are invested in emerging areas, and 10 percent on radical new ideas.
"This approach forces the team to be more innovative," says Gandhi. "It carves out space and money for breakthrough innovations without neglecting the current business."
Thanks to this approach, the team behind Chase's BillPay platform developed a capability to allow Chase business owners to self-enroll in a consumer facing directory. Currently a pilot project, the new functionality creates a two-sided market place, which enables consumers to pay their bills directly from the Chase app and businesses to receive their funds faster.
Learning on a Loop
Startups are masters at surfacing major problems and addressing them right away. It's not by accident. They use an effective approach known as validated learning, which involves listening and embedding customer feedback into every step of the process.
At JPMorgan Chase, a panel of customers gather once a month to review a new product while engineers sit and listen. This process has quickly become a powerful tool—and a favorite among employees. For instance, the team behind QuickPay, Chase's person-to-person payment service, learned that customers wanted to be able to load their contact directory into the payee list, so they worked hard to quickly implement that feature.
"Customer feedback during the development process is critical to getting an early read if we're moving in the right direction," says Patel. "Our technologists also report dramatic increases in satisfaction as their work gets closer to the customers. It becomes more meaningful when they get a chance to connect what they are doing with why it matters."