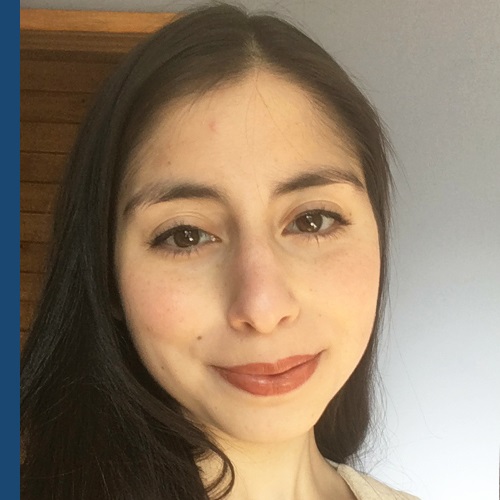 Work location: Santiago, Chile
Major: Industrial Engineering
University: Universidad Austral de Chile
Favorite breakfast food: Oatmeal with chopped fruits and nuts. Also something sweet – like a piece of cake or pie!
Top travel destination: Europe – I enjoy cities with ancient architecture, beautiful museums, and big parks, lakes and rivers
Languages spoken: Spanish (native), English and German
Favorite ice cream flavor: Cookies and cream
Favorite coffee beverage: Cappuccino
Favorite book: The Unbearable Lightness of Being by Milan Kundera
Favorite hobby: Reading and yoga
Job in a nutshell: As part of the Middle office team, we provide support to the Chile Trading Desk from the booking of the deals to its settlement. We work with tech support teams when a specific issue comes up and during system migrations and testing of new instruments.
Consuelo Tiznado
---
Transactions Analyst, Operations
When Consuelo Tiznado graduated from Universidad Austral de Chile with a degree in Industrial Engineering, she assumed that it wouldn't be all that hard to find a job where she felt like she belonged and could continue to grow. A year later, it was clear that the work landscape wasn't as welcoming as she'd imagined.
When an old friend told her about an opportunity with JPMorgan Chase and suggested she apply, Consuelo was surprised. While she'd taken some finance classes—and enjoyed them—her engineering background didn't seem like a natural fit in the finance industry. On the other hand, she didn't enjoy the jobs she'd found in her previous industry, and she thought that it might be time to try something totally different.
Consuelo's new job with JPMorgan Chase meant that, in addition to starting in a new industry, she also had to adapt to a new city. Santiago, where her job was located, was far from her friends and family. But for Consuelo, challenges also mean opportunities...and she's embracing both in her new life!
What convinced you to choose JPMorgan Chase?
I knew JPMorgan Chase was right for me because it was a big company, where I could grow a lot. I want all those challenges. I was excited because I knew I wanted a wider variety of experiences, and JPMorgan Chase would provide that.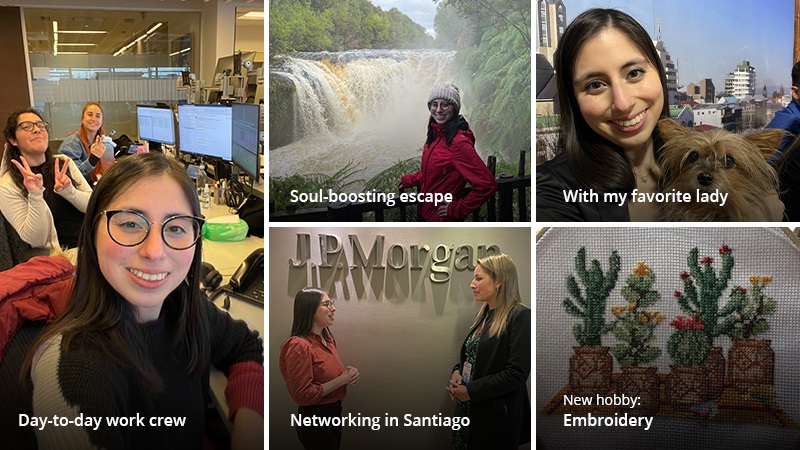 When you came to work at JPMorgan Chase, what was your first impression?
I soon realized that my colleagues were very intelligent people. They concentrated on their work, but they were also super nice to me, and always happy to help. That's very important when you're new and lost. It was kind of comical, because the day before I started working, it was my birthday. When I started, they asked when my birthday was, and I said yesterday. After lunch they brought me a cake!
I've also been impressed with the many opportunities people have here to grow. I started working in the back office, and in eight months, they gave me the opportunity to move to the middle office as an analyst. They've encouraged me to grow. You don't see that in every place.

What is your favorite thing about interacting with your managers, co-workers or team?
I have a very good relationship with my manager. In fact, she talked to her manager about recruiting me for her team. We met while working in operations, and she got to know me, and chose me. My manager has encouraged me to grow by giving me more opportunities to participate in challenging projects.
With my team of four in our office, we all work together. We have fun and help each other. We all want the best for the company and for us, so when someone has a problem others say, "How can I help you? Is there any way we can make it better?"
What was the moment you knew you'd made the right decision to work at JPMorgan Chase?
About four months into my job, I was asked to work on a difficult report that had to be completely overhauled and corrected. Working on it, I felt really good about myself: It was a difficult challenge, but there were people who were happy to give me the support I needed. It was the first time I really grew at the company.
What do you think would surprise people about being a Transaction Analyst at JPMorgan Chase?
How adaptive you have to be. You have to keep a lot of things in your mind and multi-task. I have to be open to new questions and new problems from other people. I think most people would be surprised by how fast everything moves here, and how quickly we have to resolve issues.
If you could talk to your younger self about her job search–and especially about going to work at JPMorgan Chase–what advice would you give?
I'd tell myself to be patient, because you will find a good job, and you'll have fun there. To enjoy the moment you're in, and not worry about the future because it will be good!
What business do you work in and how would you explain your job to someone who doesn't know anything about finance?
I work for Corporate Investment Banking, as a Transaction Analyst within the Chile Trading Support team. We help traders book foreign exchange market trades and provide support to them. We work with other teams too, the back office who makes reports, the teams who pay and receive money, and with technical support to resolve system issues. It's fast-paced work.