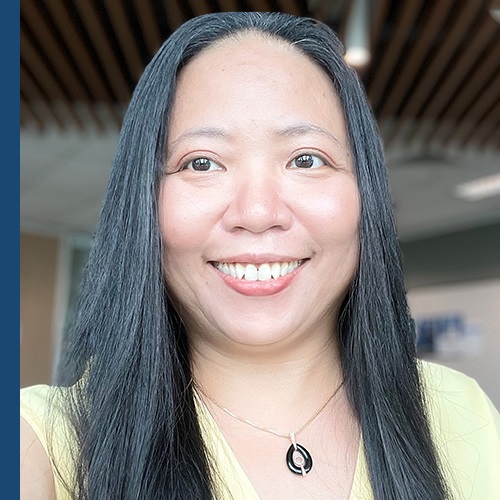 Work location: Singapore
Major: Computer Science
University: University of the City of Manila
Favorite breakfast food: Pancakes and fruits
Top travel destination: Scotland, UK
Languages spoken: English, Filipino and a bit of Spanish
Favorite ice cream flavor: Strawberry
Favorite coffee beverage: Latte
Favorite book: Noli Me Tángere by José Rizal
Favorite hobby: Cross stitching and walking
Job in a nutshell: I am in charge of Production management and supporting the digital platform applications for our external client facing users
Favorite piece of tech: My apple watch – it allows me to catch messages or calls coming in. Historically, I also love the invention of household equipment such as washing machines (liberating women of 'household' duty norms)
Skills for tech role: Adapting to fast changing technology, initiative to learn, and resourcefulness
Gladies Garry
---
Digital Platform Support Global Lead, Technology
No matter how much we plan and predict, random chances and opportunities often lead us away from where we expected to be...and right into the life we want. That's certainly been the case with Gladies Garry's career. Originally from the Philippines, her previous works allowed her to travel and one of those trips took her to London, halfway around the world from her home. On this visit, she met her husband, which led her to move to United Kingdom to settle after getting married.
Later, she faced an odd decision—go for a job in healthcare, or go to work at JPMorgan Chase in Glasgow. She liked the feel of working at a bank and knew it would fit her skills, so she took the job and started working with JPMorgan Chase. A couple years later, she was offered a mobility opportunity in Asia and took a job with JPMorgan Chase in Singapore. It was only supposed to be for a few years, but she and her husband loved the area and the opportunities that were available to her and her family.
They've been there ever since...and have no plans to leave.
What does success look like to you?
For me, success is doing what you actually like doing, and choosing to be happy in what you do. One big success for me was having mobility throughout my career. The experience of working in different career roles, industries and countries helped me develop a better understanding of various cultures. More so, it made me aware of the importance of diversity–recognizing individuals' unique differences, whether it's about race, ethnicity, gender, sexual orientation, socio-economic status, age, physical abilities, religious beliefs, political beliefs, or other characteristics.
This is an important life lesson that I hope I can pass on to my kids as they grow.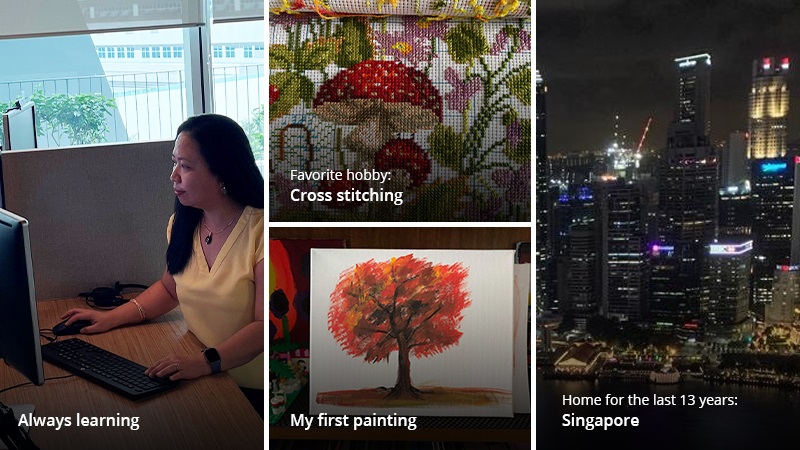 Who has the been the biggest influence in your life?
At JPMorgan Chase, one of our senior female managing directors came to Singapore as part of the senior global technology leadership visit to the region. Part of this program was setting up meet-ups between vice president leads and visiting senior leaders. I was invited to join one of these meetings. During the Q&A session, I wanted to ask a question but wasn't able to get the opportunity. The managing director noticed this and stopped other questions to call on me and ask for my question. She was inclusive, remembered my name, saw what was happening and made sure to include me in the conversation. Now, in my career as a manager, I try to apply the same thought process for my team, being encouraging and ensuring everyone feels included in discussions.
On a personal level, my mom has the biggest influence in my life. She was a single mother for many years, and taught me to speak my mind and learn to be independent in various ways. Who I am today comes from what my mom taught and instilled in me as a daughter.

What is the biggest obstacle you've overcome in life?
At the beginning of the pandemic, my mom was diagnosed with stage 3 cancer. It was hard for our family—at the time, we couldn't find a hospital to even admit her, and just had to hope things were going to be okay. She just recently finished her chemo.
The experience deeply affected us, but we've survived that obstacle. It taught us to remain strong and made us realize that there are more important things in life we should appreciate other than any material things we own.
If you could talk to your younger self about working at JPMC, what would you tell her?
I would tell myself to speak my mind about my career successes and own them. I would also tell myself that making mistakes is part of life, and what is more important is to learn from those experiences.
Today, I own my career and don't wait for other people to own it for me. What I learned throughout the years is you need to have the conversations around the career progressions you want and about investing in yourself through additional technical skills if you want to remain in the tech field.