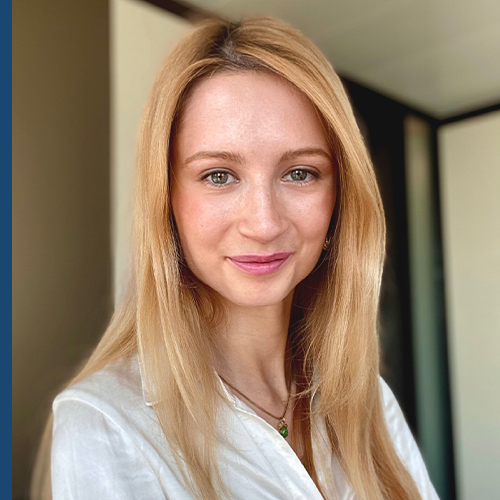 Work location: Frankfurt, Germany
Major: Business Administration
University: University of St. Gallen, Switzerland
Favorite breakfast food: Toast with olive oil, tomato and serrano ham
Top travel destination: Madrid (my hometown)
Languages spoken: Spanish, German, English and Portuguese
Favorite ice cream flavor: Nougat
Favorite hobby: Latin dances
Job in a nutshell: Optimize corporate clients' commercial trade with liquidity and risk solutions
Ines Jimenez Herreros
---
Corporate Sales, Corporate & Investment Banking
Ines Jimenez Herreros is the exact kind of person the European Union was designed to encourage: She was born in Madrid but her parents enrolled her in a Swiss school, where she learned German.
"That was a really crazy idea of my parents," she says, laughing. "They are both Spanish, but they must have thought 'Learning German? Why not? That can only help!'"
It did help...a lot: Graduating from a Swiss school qualified Ines for placement in a top Swiss business school. After graduating, she gained working experience through internships and decided to join JPMorgan Chase in Frankfurt in February 2020—shortly before the pandemic locked the city and the EU down. Still, she's thrived in her role– embracing everything it's allowed her (and continues to allow her) to learn.
What is your current role at JPMorgan Chase?
I am part of the corporate and investment bank, focusing on Spain, Portugal, and German-speaking countries. I support my clients' commercial trade and liquidity needs with financing and risk mitigation.
I really like it! It gives me a lot of insight into the clients' business models and daily activities. I quickly realized that even companies in the same industry have very different ways of working—which means our solutions have to be tailored to meet their specific needs.
That's where a job like this is very interesting to someone starting or early in their career: You learn a lot about how to structure solutions and of course about the clients you're covering. I'm very happy with that being a big part of the job.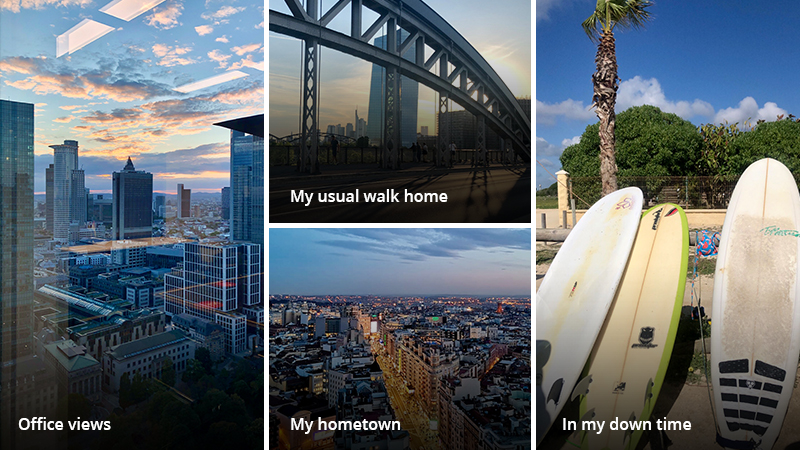 What tipped the scales for you to join JPMorgan Chase?
Before joining JPMorgan Chase, I did two internships elsewhere, one with another bank in a similar role, and the other in the insurance industry. I know that there are some post-graduate rotational programs here, but I wanted to come as an employee directly.
I got the job by going to JP Morgan Chase's website. It's a highly regarded company in the financial industry, where I was sure I wanted to stay. I also knew I wanted to work with clients on the corporate banking side. If that's what you're looking for, it is only natural to end up at JPMorgan Chase's website.
And that's really how it was for me: I started here as a direct hire after university and my two internships, and have been here for two and a half years now.

How have you found the culture at JPMorgan Chase in Frankfurt in general, and how does it differ from the places that you interned?
I didn't really know what to expect. I thought people would be very work-focused and perhaps cold. The first is not untrue: Going the extra mile is not unusual for my colleagues. On the latter, however, I came to find they are actually very open! I am proud to say I work in a place where people are talented, ready to share knowledge and proactive in looking for opportunities to collaborate. Managers are also very invested in you and will happily give you the tools and responsibility to lead initiatives and grow.
I really wished for such an environment for this stage in my career and it is something I've definitely found here.
Are you involved with any of JPMorgan Chase's Business Resource Groups?
Yes! I am in the Analysts and Associates Council for our Payments division, which organizes events for junior employees at the bank. I am mostly involved in the Germany and Spain locations.
I'm also part of "Women on the Move in Frankfurt," where I am the treasurer and lead some events. I am also engaged in an early-stage project called "Go Green Frankfurt," in which we are developing initiatives to help employees contribute to a more sustainable relationship with our environment.
Those three BRGs require effort and time, but people are flexible and everyone understands that we all have other commitments, especially towards clients. Also, they allow me to make a bigger impact on matters close to my heart. If I were to do anything on women's empowerment or sustainability on my own, I would probably not be as impactful as I can be with other colleagues with different ideas and resources to bring together. On top, engaging in BRGs is also personally beneficial, as it has significantly expanded my network.
What's the best piece of advice you've gotten so far?
A piece of advice I got is that a career is not a sprint—it's a marathon. I take this to heart because so many times you get short-term opportunities, but one must keep the bigger picture in mind and think, "Okay, where do I want to be, perhaps not next year, but in five years?"
One thing I quickly realized when I arrived at JPMorgan Chase is that everyone, regardless of education and experience, is continuously learning. Don't assume that people—even the most senior managers— will know everything nor that you should. Don't be afraid to ask questions and be curious.