Employee Stories
Leveling the Playing Field: Jerry's Story

When Jerry Hernandez, a Vice President at JPMorgan Chase, began mentoring a young high school athlete, he found himself filling a familiar role: coach.

---
Six years ago, I graduated from Hardin-Simmons University, a liberal arts college in Abilene, Texas. I went to the school on a scholarship and played football. Four years of blood, sweat and tears left a mark: I cherish the experience I had at Hardin-Simmons.
But next year, I'm going to be rooting for another team.
The reason is simple: Marco Garcia my mentee, is going to play baseball for Cedar Valley, a branch of Dallas College, where he is getting a full ride scholarship. And Marco is worth cheering for.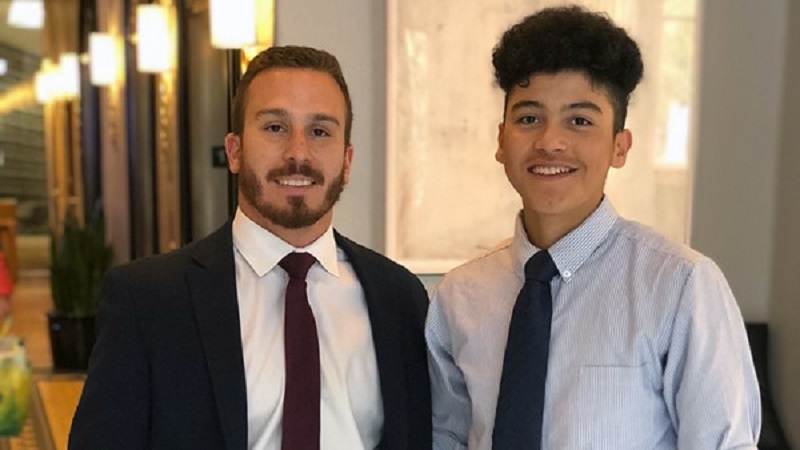 I first met Marco when he was a high school sophomore and I was a Middle Market Banking Associate at JPMorgan Chase. We were at a community service event with The Fellowship Initiative (TFI), a JPMorgan Chase program that focuses on improving economic and social outcomes for young men from historically disadvantaged communities.
During the event, teams of mentors and mentees worked together to build a community garden. Many of us were struggling with the construction aspect of the job. That's when I first witnessed Marco's innate leadership ability.
Marco wanted to show his team how to build the garden bed, but he had recently moved from Mexico and spoke very little English. So he grabbed a hammer and systematically began to show the entire group the proper way to do the job. And we all followed his lead.
A Player in Need of a Coach

It's hard to fathom how someone as dedicated and hard working as Marco wouldn't be a success in life. But he is part of an often-overlooked group of young men of color in our society, and we simply aren't doing enough to level the playing field for him and so many others.
If my years in high school and college football taught me one thing, it's that every winning season starts with a game plan and strong leadership. I knew Marco was a natural born leader and that he had a strong and supportive team around him who helped him strengthen those skills. As Marco's TFI mentor—his coach—I felt like I could help him continue to develop the game plan he needed to succeed.
The first area I focused on was opportunity. We have an obligation in the working world to help the next generation thrive. Part of that responsibility is making sure we provide equal opportunities to marginalized groups. In execution, that means interviewing, mentoring, hiring and advocating for candidates from a diverse range of backgrounds.
Marco and I had many discussions about the next steps he would take after his high school graduation. He is very intelligent, so all I had to do was be there for him. My goal was to help him see the opportunities that going to college would bring him.
College isn't always the obvious next step for first-generation students, but through his determination and talent, Marco was able to catch the eyes of college baseball scouts and now has the opportunity to do what he loves at the next level, while furthering his studies.
Reaching Out

Marco's second step was getting the tools he needed to succeed at school—a process that far too many students take for granted. As a first-generation college student myself, I remember how hard it was to focus on my studies while playing football—not to mention learning the ropes of adulthood.
Marco isn't the only person who needs help learning the skills needed for success. Across America, communities desperately need a grounding in basic financial literacy. Often, families and workers lack the financial backstop they need to make it through challenging times. Many are unfamiliar with concepts like building credit, opening bank accounts and saving money that lay the foundation for financial health later in life.
Marco and I focused on financial literacy, hard work and money management in most of our conversations. Additionally, JPMorgan Chase's TFI program has organized financial literacy trainings via Zoom to create an open forum for the fellows' questions and concerns as they prepare for the next chapter of their lives. We discussed how they need to be financially sound and focus on their education and advance themselves.
Help Through Difficult Times

Support is the final piece to the puzzle, which is especially important in the current environment. This is one of the places where I, as a mentor, come in. Having a strong role model is helpful, but as I've worked with Marco, I've seen that a supportive, engaged advocate is worth its weight in gold. Every young adult needs support, guardrails and encouragement to succeed. The easiest way to contribute, I've found, is by simply being there for a young adult through mentorship.
Support for underserved populations has never been more important. As the world continues to struggle with the pandemic, vulnerable populations have been especially hard hit. While I can't change the situation, as a mentor I've focused on providing my time and—socially distanced—support to Marco via outdoor lunches, calls and texts.
If we all work together as a team, we can level the playing field and ensure that students like Marco have the chance to succeed. We have an obligation to the next generation to leave this world better than we found it. One way to do that is by creating opportunities, educating and supporting young adults with diverse backgrounds.
Marco's done his part: Over that past three years, he's worked hard to get into college, play baseball and succeed. Wherever his journey takes him, I hope he knows that I'll be here, cheering him on every step of the way.