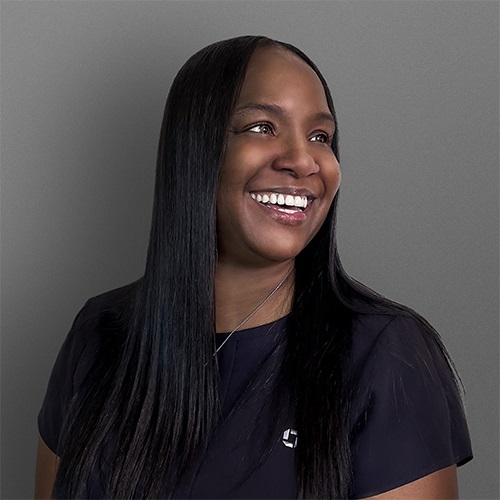 Anntonika Whittaker
---
Community Manager
Anntonika Whittaker will be the first to tell you that she didn't have a grand life plan when she landed her first banking job as a teller at her local bank branch. "I was eighteen years old and in school and had no idea what I wanted to do in life," she recalls. But while she may have been unsure of her long-term plans, Whittaker was certain of two things: She wanted a career, not just a job, and she wanted to do something to better her community. As she saw it, banking could give her both. "I knew that banks offered really great benefits for students, so I figured if I could get a job at a bank, I would have a lot of opportunity for advancement," she says. "Plus, I have a passion for helping people and the bank is a platform to do that." Fast forward twenty years, three states and two employers, and Whittaker is still in banking, now working for Chase as a Community Manager in San Diego. Turns out, banking has been a great fit for the mom of three: "Once I found banking, I never looked back."
What does success look like to you?
Success for me means doing your job to the best of your ability without fear of failure. Failure can be an incredible learning experience. These lessons are very important, they're how we grow and develop personally and professionally. Often, valuable insights come only after a failure. Accepting and learning from those insights is the key to success.
Who has been the biggest influence in your life?
My mom. She was a single mom of four for many years and she was still able to have a full-blown career and be very successful at work. She taught me strength, resilience, persistence and the importance of planning. There are things you can control and things you can't control. When you focus on the things you can control and form a plan that is open to adjustments, success is just around the corner.
What do you consider the most valuable piece of advice you've ever received and where did it come from?
The most valuable piece of advice I've received was from a bank executive who told me that it is okay to be my authentic self. For
example, I had never worn braids in my hair throughout my career because I didn't think it was professional. But in the African American community, that's how we like to wear our hair. It's embedded in our culture. Now I wear my braids to work with pride, and I'm proud to work for a company that welcomes authenticity.
What is your favorite part of your job?
I love that I get to work with lots of different kinds of people. Working in San Diego, my customers come from all different kinds of backgrounds and cultures, and I really enjoy that. I also really like my job because it is my opportunity to help my customers make their dreams come true. Sometimes they don't even know the dreams they have, and it's my chance to help uncover them. Once we identify those dreams, we can start working to achieve them.
How do you build relationships with your clients?
My job is to help my clients improve their financial well-being. From experience, I have the unique ability to connect with them regardless of where they are in their financial journey. It's important that I understand their personal values, where they are in their financial journey and where they want to be. It's important to meet my clients where they are, to really listen to what they are saying and telling me about themselves, instead of making any assumptions about them. For example, if a young person comes into the bank to open an account, don't assume that he's a college student. For all you know, he could be opening a corporate account for his new business. You absolutely must put aside any presumptions and focus on the real person right there in front of you.