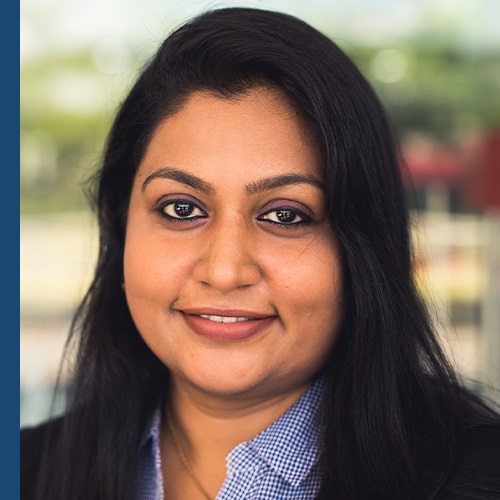 Work location: Bengaluru, India
Major: Electronics and Instrumentation Engineering
University: St. Joseph's College of Engineering
Favorite breakfast food: Oats and milk
Top travel destination: Singapore
Languages spoken: English, Tamil and Kannada
Favorite ice cream flavor: Chocolate
Favorite coffee beverage: Latte
Favorite book: Lean in by Sheryl Sandberg and Ikigai by Francesc Miralles and Hector Garcia
Favorite hobby: Singing, sketching and painting
Job in a nutshell: I lead Learning and Development for Global Identity and Access Management (GIAM) team in Global Technology Infrastructure. My team is responsible to address the training needs of the organization's requirements and propose various solutions with respect to New Hire Training and Continuous Learning
Favorite tech resources: Tech Crunch and Digital Trends
Favorite piece of tech: Ethical Hacking – I've always been fascinated with this concept and how they are the gatekeepers for all businesses. This topic enables one to think like a hacker and prevent any security breaches or cyberattacks into the system.
Skills for tech role: Staying technical (programming languages and design), communication, problem solving and analytical skills
Mercy Priyadharsini
---
Learning & Development Lead, Global Technology
When she graduated from college with an engineering degree, Mercy Priyadharsini never imagined working for a financial institution. But after a couple years with a tech company, a friend suggested she interview with JPMorgan Chase.
That was 15 years ago—and she's never looked back.
After starting as an analyst in Bengaluru, India, Mercy has risen to Vice President—a journey that has been transformative in ways surprising even to her.

"I was an introvert," Mercy says of her younger self. "So I changed myself. I became a very social person—thanks in part to JPMorgan Chase and its culture of diversity, equity, and inclusion."
Over the years, Mercy has racked up an impressive array of awards, and has had the opportunity to mentor several colleagues and volunteer with job training programs. While she's constantly honing new skills and improving herself, Mercy is passionate about nurturing the next generation of leaders. It's not just her; it's company culture. And she's eagerly paying it forward.
What's been the most surprising, fun, or intriguing part of working for JPMorgan Chase?
My managers gave me the platform to grow. That's not only helped me grow professionally but as a person. I've had such supportive people around me. The company has given me a lot of things – not just from a recognition standpoint, but also from the perspective of giving me a path to move forward.
I am also constantly learning new technologies in my day to day. The networks that I have built over the years have helped me to demystify different technologies and platforms. Thanks to Take IT Forward, TechGear and other initiatives that I am a part of, all have helped me elevate my knowledge and implement in my day to day work.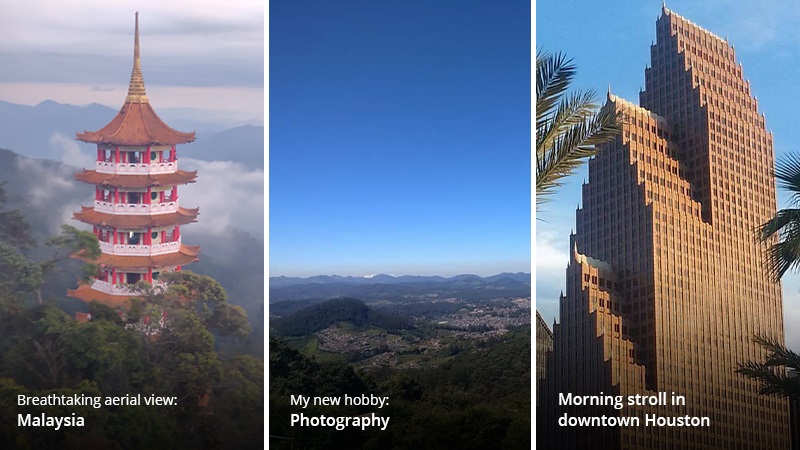 Has JPMorgan Chase's culture enabled you to climb the ladder or are you self-driven – or both?
Both. I'm a go-getter. Of course, I was an introvert. But the training role I had–handling about 30 or 40 people per class–automatically opened me up as a person. I became much more social. So, while I changed my own path as a go-getter, the company has supported me along the way and helped me to grow tremendously as a person.
I thought I would be more of a follower, but they brought out the leadership traits in me. I soon came to realize I was a driver–and a leader in many cases. And it also helps me enable other people around me. I just didn't want to stop with me, but I also want to ensure that when I grow, I personally take a few people along with me and help them grow as well.

It seems a lot of what you do at JPMorgan Chase – and what you love about it – is paying it forward?
I love what I'm doing right now. Absolutely. I'm always trying to strike a balance between my work and what I do apart from work. I always think, if I am passionate about it, I really want to share the passion. So whether it is asking people to come up in terms of delivering an instructor led training, a training presentation or in their career growth–I would like to pass it on to my people who are looking for that kind of career guidance.
Between my work and managing a team, I also try to dedicate time to pursue my passion in initiatives that gives me happiness and contentment. It is a stretch but life is all about balance–as I recall a quote "Balance is not something that you find, it's something that you create"!
Is there anything about the culture at JPMorgan Chase that surprised you?
It didn't come as a surprise, but I fell in love with the culture instilled here. Starting from our leadership all the way to our analyst levels, equal opportunities are given to all candidates to make sure that no one is sidelined at any point in time and to ensure all communities are celebrated.
So those are the things which have actually drawn me in. A culture where we've seen that everybody is given a fair opportunity; everybody has a voice. Those are aspects that I really love about the company.