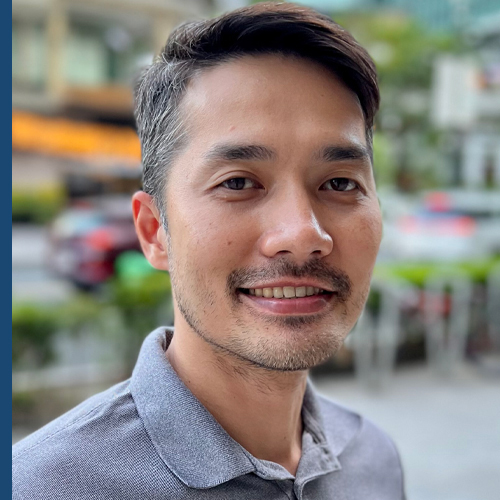 Work location: Taguig City, Philippines
Major: Industrial Engineering
Favorite breakfast food: Fried rice, dried fish and tomatoes
Languages spoken: Tagalog and English
Favorite ice cream flavor: Chocolate and Pistachio
Favorite coffee beverage: Caramel Macchiato (sugar-free vanilla and non-fat milk)
Favorite book: The 48 Laws of Power by Robert Greene
Favorite hobby: Riding my Mountain bike
Job in a nutshell: Site lead of international Consumer Customer Operations, overseeing the entire operations to ensure we are delivering the business requirements
Dru del Rosario
---
Site Lead, International Consumer Business
A few weeks after starting a new job, Dru del Rosario got a surprising call: JPMorgan Chase, the company he'd hoped to work for during his job search, asked him to interview for a position. "I wish it had come sooner, but better late than never," he recalls. Two weeks later, he received and accepted an offer to join the bank.
It's been a whirlwind ever since. A couple of years into his role with JPMorgan Chase's US customer center, Dru's manager asked him to take on a new project that involved a six-month stint in the UK. "Other than the location, he couldn't tell me anything about the project, but he promised it would be interesting," Dru recalls. "Of course, I accepted!"
Dru's new center of operations was Edinburgh, Scotland. Even before he moved there, though, he'd begun working on the project on a part time basis. For his entire stay in the UK, he was heavily involved in building an operating model for a new contact center, including all the operations, building processes and procedures, and the tools and resources that the specialists in the center would use. At the same time, he was also building his team back in Manila to support the operations.
"I had never been part of something like that," Dru says. "With all the challenges we faced during the pandemic, I appreciate how we came together and worked as a team—and how I was entrusted with the opportunity to help build something new."
What distinguishes JPMorgan Chase from other companies you've worked for?
Absolutely it is the culture. I've been in the consumer customer operations industry for almost 20 years now, and in most places, the work is about speed and volume. It's very competitive. At JPMorgan Chase, from the start, I felt empathy from my managers. I was asked about my ideas. I was challenged to contribute. I've been here only for five years, but I've grown so much more in that time as a person and as a professional. I tell my friends this is the firm I want to work at until I retire.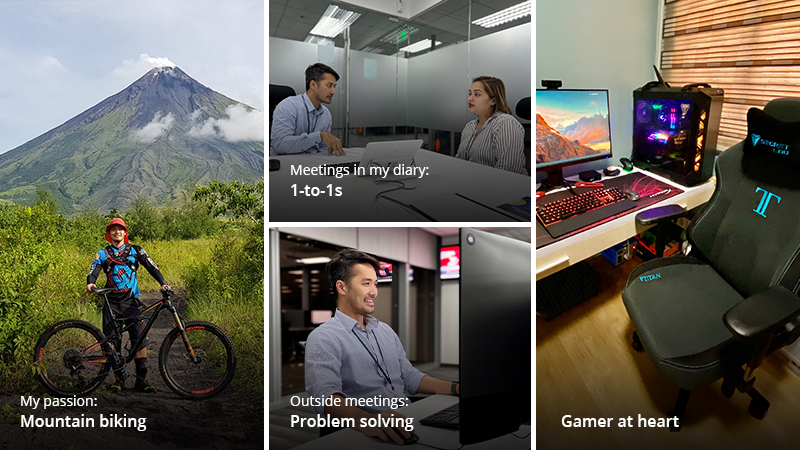 What is your favorite thing about interacting with your managers, co-workers or team?
I've had many managers at JPMorgan Chase, and I've learned so many different things from all of them, but I think the one thing they all taught me was the importance of building relationships. That seems obvious point, but it's hard to do. Work gets busy, and many of the tasks can feel transactional. If you want to build a relationship, you have to slow it down, pay attention to the details, understand what motivates people as human beings, not just employees. That's been particularly important during the pandemic. I work really hard at that because my managers modeled that kind of behavior for me. Now, I try to do the same for my team.

With the experiences you have now, what's the best advice you would give to your younger self?
I would tell my younger self to focus on figuring how to serve something larger than myself. When you're young—or at least when I was young—I thought about only what was in front of me and how it affected me. You're so self-involved in your 20s! You focus on delivering the immediate goals and how you compare to the people around you. Since then, I've found that all the things that have been meaningful, whether in my career or personal life, came from focusing on other people. Whether it's a customer or a co-worker, my friends and family or my community, I think about how I can give back.