Work location: Bengaluru, India
Major: Information Technology and Management
University: Indira Gandhi Delhi Technical University
Favorite breakfast food: Oats
Top travel destination: Iceland
Languages spoken: English and Hindi
Favorite ice cream flavor: Custard apple (Favorite Indian local brand)
Favorite coffee beverage: Java Chip Frappuccino from Starbucks
Favorite book: Pride and Prejudice by Jane Austen
Favorite hobby: Reading, working out at the gym and yoga
Job in a nutshell: I work in the Employee Digital and Service Experience team within Human Resources. My team transforms and optimizes processes in Talent Acquisition Operations division.
Ira Pandey
---
Program Manager, Human Resources
Ira Pandey considers herself lucky: After interning for JPMorgan Chase in 2019 as part of a postgraduate program, she received an offer to join the company full-time in April 2020.
And then COVID hit.
"During that time, a lot of firms were revoking their offers or delaying the joining date," she says. "But JPMorgan Chase did not do that—and I had a very smooth virtual on-boarding."
It was a difficult time to start a new job, but it also gave her a useful introduction to the company, where she works in Human Resources. "It really helped that I did my internship in person, because I got to know some people from that experience," Ira says. "Otherwise, it might have been slightly difficult to get assimilated into the company."
More than three years later—during which her training program has allowed her to explore different roles in the company—she's even happier. "It's given me a lot of exposure into the Human Resources function, and I like that it's a global role as well," she says regarding her program. "It's quite interesting so far."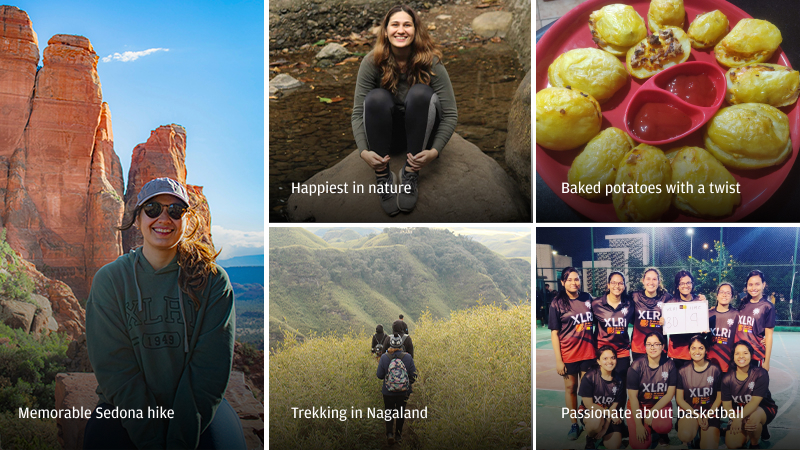 What has your path been like at JPMorgan Chase?
As part of my postgraduate diploma, we have to intern for two months at the end of our first year. Many firms—including JPMorgan Chase—come to campus to recruit summer analysts, and I was hired after attending one of those recruitment events. I interned for two months in the company's corporate center in Mumbai, and then they asked me to return as a full-time analyst the following year.
I joined the firm as part of the Human Resources Analyst Development Program, in which you complete three rotations across different departments, and then take on an ongoing role within the Human Resources division. My first role was as an HR business partner, where I was assigned to work with a specific line of business, providing strategic partnership on various initiatives. I did that role for about a year. Then I moved into the campus recruitment space and actually got a chance to recruit from my own postgraduate program. I went back to my campus but this time, I was on the other side of the table as a recruiter—which was really humbling for me.
For my third rotation, in which I was promoted to an Associate, I worked in HR operations, which is also known as Employee Digital and Service Experience (EDSE). EDSE provides vital services in an employee's journey at the firm, from enhancing new joiner experience to ensuring a smooth off boarding. In my specific job, I look into these existing HR processes and try to optimize or automate them, making them better and more efficient.
Why did you choose JPMorgan Chase?
I interviewed with JPMorgan Chase because of the brand, which speaks for itself, but I also knew a couple of former students who were already in the analyst development program and had heard good things about it from them.
I don't think there are any other programs in India that offer the same kind of exposure into the world of HR. Usually at other firms, you join as a management trainee, and complete a one-year management program where you undergo a two month stint in different roles. I was lucky enough to enter a rotational program at JPMorgan Chase where you spend eight to nine months in one role, which I really like. The rotational aspect gives me sufficient time to actually understand the role and make a difference through it, and we get to try three different ones. That really intrigued me and made it very interesting.

What were some of your first impressions when you joined JPMorgan Chase?
It's professional, established and there are processes in place so that nothing happens randomly. But it's not regimented.
Everybody has a defined role, but if you have a difference of opinion, people will listen to you. They keep telling us in all our team meetings and leadership visits that, if you have a question, please feel free to ask, and if you have a suggestion or recommendation, make it. Being heard is a big part of growing professionally.
People are very helpful as well: I remember having a million questions during my first few months. If my manager did not know the answers, he would redirect me to someone who I could reach out to for help. I realized people are not hesitant to talk even if you're new. I can easily reach out through online chat or jump on a zoom call. Everyone I've encountered has been very responsive and always willing to help me out.
What keeps you at JPMorgan Chase?
I get to learn every day—something new keeps coming my way. It's not monotonous at all, and I don't feel like I'm dragging or doing a job for the sake of it. I'm enjoying as I learn. I also like the global exposure that we get when working with teams spread across the world, united by our goal of providing a best in class employee experience while also comprehending the cultural nuances in building these experiences.
And I have been consistently lucky to have managers who are supportive. When you are new to a role, your manager is the person you look up to, and who helps you to navigate and understand your role better. When I made mistakes, I felt comfortable enough to be able to tell them and understand together how to resolve it. The opportunity to learn, grow and build a career in a supportive environment is what I like the best about this firm.