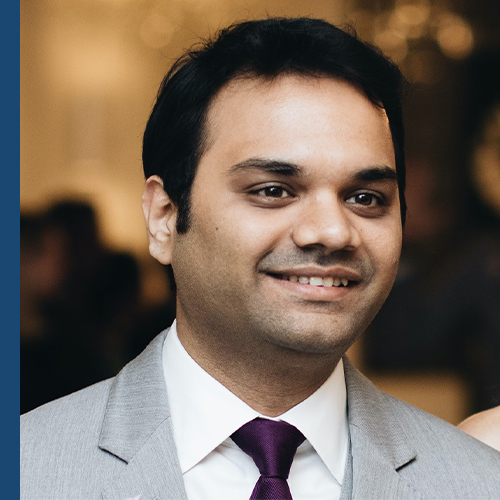 Work location: Mumbai, India
Major: Electrical Engineering (Communications and Signal Processing specialization)
University: Indian Institute of Technology Bombay
Favorite breakfast food: Savory oat chilla (pancake) with mint chutney
Top travel destination: New Zealand
Languages spoken: English, Hindi, Gujarati and Marathi
Favorite coffee beverage: Cold coffee
Favorite book: Any Isaac Asimov's sci-fi novellas, Profession being my favorite
Favorite hobby: Listening to music (an immersive experience on good headphones and speakers)
Job in a nutshell: I'm part of the Quantitative Research team within the Corporate & Investment Bank. I focus on mathematical models that help our clients execute orders in an algorithmic fashion and perform quantitative research on the markets to improve the performance of our models.
Rushabh Shah
---
Quantitative Researcher, Markets
Rushabh Shah's journey to JPMorgan Chase grew out of a disappointing situation. He was living in Mumbai, working remotely for an investment management start-up in San Francisco. At the time, he was hoping to receive an H-1B visa that would enable him to join his new colleagues in person, but that year, there were only 65,000 such visas available...and more than 236,000 applicants.
He didn't get his visa, and he soon realized that working with a 12-hour time difference from his colleagues wasn't exactly what he wanted out of his career. Then he got a call from a former colleague who was recruiting for an expansion of JPMorgan Chase's Quantitative Research division in Mumbai.
"She reached out to me saying 'I'm building out this new team in Mumbai, and I'm looking for people with a similar skill set,'" Rushabh recalls. "She didn't know that I was keeping an eye out for a job, so she said, 'Do you know anyone who would be interested?'"
"And I said, 'Why do you want my colleagues? I'm interested myself!'" he says. Six years later, he's still interested...and still working for JPMorgan Chase.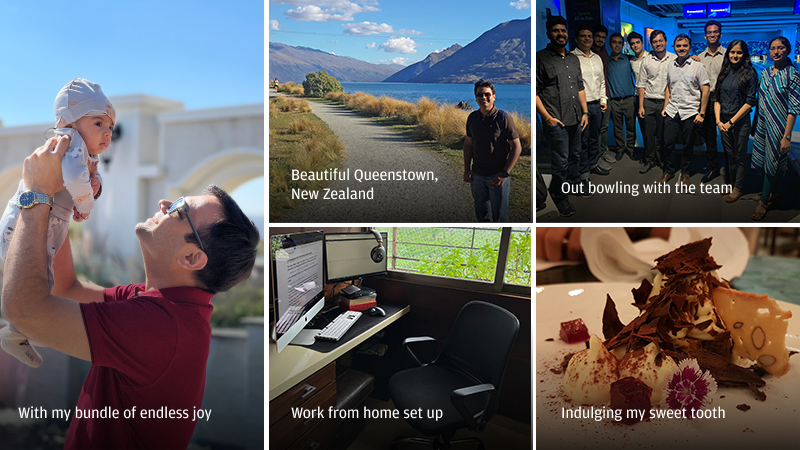 When you were being recruited to come to JPMorgan Chase, was there a moment that made you realize, Oh, this is the perfect opportunity for me?
Yes! I worked for another large bank right out of university, before going to the start-up based in San Francisco. When I was there, I was aware that JPMorgan Chase was one of the top three leaders in equity trading. I always knew that I wanted work at one of those top places, because I'd probably get better exposure to cutting edge research.
The other thing that was huge for me was finding out they were starting a new team. When you join a growing team, you grow with the team together. It gives you a better opportunity than joining a fairly mature team where you're just one additional person with a specific responsibility.
When you first came to work at JPMorgan Chase, was there anything that really surprised you about the company?
I was genuinely impressed by how much rigor and documentation there is in the company and how organized people are. Having worked in another large bank, the comparison was very stark: Things at JPMorgan Chase were easier to navigate because there was so much structure in place.
For example, if you wanted to understand one particular model, or you wanted to understand, OK, how do we formulate this thing exactly?, you would already have a lot of resources available to learn that, including detailed documents—almost equivalent to research papers—where you can actually read about a model from the beginning and then understand the nitty gritty of the mathematics involved and how that math translates into the algorithms we write.
That sort of rigor made my life easier in terms of being able to understand and start contributing to projects very quickly.
How would you describe the culture at JPMorgan Chase?
There is a lot of focus on learning, because we want to invest in each employee. You're not expected to start delivering amazing results on day one, but to learn how the company operates and works, improve your own skillset and make a habit of continuous learning . Once you adopt that approach, contributing to projects becomes second nature because you learn from your seniors.
Also, especially in my role, all my peers around the world have a rigorous research background, and a mindset of learning and curiosity, so it's always encouraged to ask more questions, to reach out to people—they're always ready to help you with answers or point you in the right direction. Any kind of help you need, whether it's operational or business related, there's always someone who is going to help, even if it's just to say, "Okay, for this particular question, you can go to this person or reach out here."
What has been your best day at work so far?
In early 2019, I discovered that my manager had nominated me for an Impact Award at JPMorgan Chase India, which recognizes employees at the Associate level and below for their outstanding contributions. I was nominated for my contribution to the company's culture because in 2018, there was a manager change in the team and I had to act as a mentor to some of the younger members of the team while ensuring that the team's projects still continued smoothly.
And then I found out that I'd won.
They had an entire awards ceremony where people were called onto the stage and handed an award. It was very special to me; for one, it almost felt like attending a proper awards ceremony that you normally only see on TV. But, truly, getting that kind of acknowledgement from your colleagues and superiors for your work, that was very important to me.