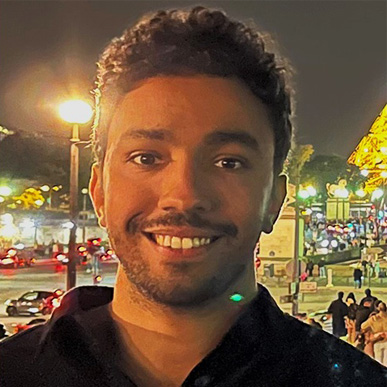 Work location: Paris, France
Major: Mathematics
University: Sorbonne University
Favorite breakfast food: Cinnamon buns
Top travel destination: Florence, Italy
Languages spoken: English, French, Arabic and Spanish
Favorite ice cream flavor: Coffee
Favorite coffee beverage: Oat milk latte
Favorite book: The Alchemist by Paulo Coelho
Favorite hobby: Fishing and playing poker
Job in a nutshell: I work in the Model Review Group (MRG) focusing on Counterparty Credit Risk Models
Taha Rahmaoui
---
Quantitative Analyst, Model Review Group
In January 2020, Taha Rahmaoui was scheduled for an interview with JPMorgan Chase in London. Walking into the Paris airport for his flight, he found a surprise waiting for him. "At that time it was really strange for me to see people wearing masks in the airport," he explains.
Unaware of the impact that COVID-19 would eventually have, Taha stood in line, boarded the plane, and took his flight to London, where he landed his internship. Before long, he was working at JPMorgan Chase, London...from his apartment in Paris.
Six weeks later, he moved to the UK, where he continued his internship in the same office, but from a different remote location. "I started working from home, and then I moved to the UK and kept working from home," Taha says with a laugh. "I did get to go to the office during the end of my internship."
When his internship ended, Taha landed a job in the London office. Soon after, his pandemic career came full circle as he moved from London to the place it had all begun—an apartment in Paris, not far from his new job with the JPMorgan Chase Paris office.
What made you pick JPMorgan Chase?
At the time, I was studying for a Masters in mathematics at the Sorbonne. It's common to get insights from other students about different types of internships that can be done with different types of banks. The most important thing for an intern is to work in a team where they will feel supported, rather than just tested, and where they can have feedback regularly instead of only getting a final assessment.
I had gotten a lot of good and positive feedback about the working environment at JPMorgan Chase. I knew going into the interview what type of work I'd be doing, the environment I'd be working in, and the ways that I could add value to the company.


What was it like starting off working from home and then moving to the hybrid model of part time work in the office?
I had done some internships in the past, so I knew what attitude I needed to have to get to know the team and so on. But even though it might sound difficult to meet people outside of your team, especially when you're working from home and you're new, the company did many things to make it easy.
First, the whole system of working from home was well-managed by my team, as we had regular team catch-ups and I had regular meetings with my manager at that time. I was also actively encouraged to reach out to my colleagues and ask them for a coffee break or whatever.
Besides that, the interns had a lot of virtual events, so I also got to know different people around the company.
What surprised you the most about working for JPMorgan Chase?
I think the most surprising thing about working as an intern at JPMorgan Chase was that I never felt like an intern. I mean that in the sense that I was an active part of meetings and I was never treated as an intern in them—I was always encouraged to participate and share my ideas in our meetings and with my manager at that time. We worked on projects and, when we had meetings with other teams, I was always encouraged to give my point of view and without me being considered "just an intern." It was a really exciting experience for me and it was really helpful for me in terms of developing my skills.
How would you describe the culture at JPMorgan Chase to other young people who are considering the company?
You have more possibilities to grow here, and you are always encouraged to grow—which is not the case when you work for other places.
For example, in some other places, you might do a certain amount of work on a project and then have your manager take over and present your work in meetings. But at JPMorgan Chase, if you do something, you will have the opportunity to present it and to get credit for it. That is really important for someone who is young and who is trying to build a good career.
What's the most useful advice you've ever received?
One of the most important pieces of advice I've received is that I should always be ready to reach out to people and ask a lot of questions. It sounds simple, but it's really important. And here, you can just reach out in the simplest ways possible to people from other teams, ask them for meetings and ask what they do, just to have an idea about how different teams interact.
Don't be afraid to ask questions—a lot of questions—when you first start. That is normal for someone who's just joined as an intern. This is such a great opportunity in a supportive environment.